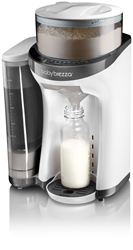 "The feeding experience is an intimate moment, and at Baby Brezza, we have made it our mission to cut the chaos to give you more precious time with your little one."
New York, NY (PRWEB) March 18, 2015
Baby Brezza® announced today immediate expansion plans to solidify their global presence. As the leading provider of innovative mealtime products for infants and toddlers, Baby Brezza will begin international distribution of their award-winning mealtime product Formula Pro®. Beginning late spring, the Formula Pro® will hit retail shelves throughout the European market with additional territories planned for the Middle East, Australia and Malaysia by end of year.
The revolutionary Formula Pro® launched in late 2013 in response to the daily challenge of portioning formula while trying to hold and comfort a hungry baby. This first-to-market automatic formula maker has modernized bottle preparation for parents, grandparents and caregivers alike in the United States and Canada, and with the expansion, Baby Brezza will now simplify formula-feeding for families around the world. Using patented technology, the Formula Pro® measures, dispenses, heats and mixes formula to the perfect consistency in seconds with just the push of a button.
Hailed as the "Keurig of formula makers" by the media, the Formula Pro® has found immense success, thus laying the foundation for international expansion. The automatic formula maker works with all major bottle brands and formula types, making it a "must-have" for formula-feeding families everywhere.
Key features to meet mealtime needs include:

Hassle-free preparation: No measuring, no mixing, no fuss.
Patented mixing technology: With the push of a button, formula powder and temperature controlled water are mixed to ideal consistency without gas-causing air bubbles.
Accurate dispensing: internal measuring wheel dispenses exactly the right amount of formula powder, uniquely tested and measured for each individual formula brand and type.
Removable water tank with wide top opening for easy filling and cleaning.
Compact storage: Small enough for the kitchen counter or nursery, yet features a large capacity dispenser to hold 700g of formula powder to prepare 20 8-ounce bottles at one time.
Versatile: Makes 2, 4, 6, 8 and 10 ounce bottles to fit your baby's nutritional needs.
"The Formula Pro® has truly changed the way we nurture our babies," said Dara Shapiro, Director of Marketing at Baby Brezza. "The feeding experience is an intimate moment, and at Baby Brezza, we have made it our mission to cut the chaos to give you more precious time with your little one. Based on our continued success in the United States and Canada, the expansion to additional international markets is a natural progression and we are excited at future growth opportunities for this game-changing product," she added.
Touted as "a lifesaver for a whole lot of parents", Baby Brezza's Formula Pro® has received numerous accolades including the Seal of Approval from The National Parenting Center and the "Parent Tested Parent Approved" award. Voted the Best Product of 2014 by Cool Mom Picks, the Formula Pro® is the only machine that allows "one-touch access to pre-mixed formula that's the exact amount you need and the right temperature you need it to be." Consumers continue to show their appreciation of the Formula Pro® in product reviews:
"This is it. That thing I have needed in my life but never knew I needed until I saw it. I bought this the moment I ran across it. Imagine measuring formula, water, shaking, warming (while holding screaming baby/ies), cooling when it gets too hot in those stupid warmers and generally being annoyed at the process, times three. That's me with triplet babies and growing appetites."
"This machine is awesome. I've had it for 6 weeks and it works like a charm. I can't believe how much easier it is to prepare bottles - especially in the middle of the night. I would highly recommend this to any new mother."
The Formula Pro® is available for $159.99 at leading retailers including Target, Babies R' Us, Buy Buy Baby, Bed Bath & Beyond, Bloomingdale's, and Amazon.com, among others.
For more information on Baby Brezza's Formula Pro® and other mealtime products visit: http://www.babybrezza.com.
About Baby Brezza Enterprises
Baby Brezza Enterprises is a leading provider of feeding products designed to make mealtime for infants and toddlers a breeze. With innovative product designs and functions that enhance the lives of busy moms, dads and caretakers, Baby Brezza has redefined mealtime in the modern household. Since its inception in 2009, Baby Brezza has been committed to providing convenient, high quality, and safe baby feeding products that today's parents rely on. Baby Brezza's award-winning products can be found at leading retail outlets globally and online at http://www.babybrezza.com. For new product updates, follow us on Twitter at Twitter.com/BabyBrezza, Facebook at Facebook.com/BabyBrezza and Pinterest at Pinterest.com/BabyBrezza.