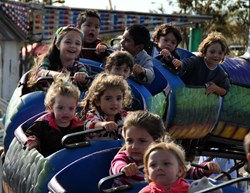 Live music, food, carnival, along the seaside beach at Babylon's beautiful Tanner Park in Copiague
Long Island, NY (PRWEB) September 10, 2013
Long Island Exchange Inc., a local media company based in central Long Island, is announcing, in conjunction with Nightingale PR, the 6th Annual Long Island Family Festival during the weekend of September 13 to September 15, 2013. Admission to the Festival is free.
Weekend highlights include:

Excellent Weather! (Chance of rain: 0%, According to Weather.com)
Exhilarating carnival with lots of rides for children of all ages
Live musical entertainment
Evening Concerts featuring Full House (Fri, 5:30 pm) and Breakdown: Long Island's Ultimate Tom Petty Tribute Band (Sat, 7 pm)
The Ultimate Pizza Eating Championship
The "Ocean View Craft & Gift Show" (Saturday and Sunday)
Pet Expo in the Park with Pet Pavilion and Dog Performance Arena
Corky's International Canine Haute Couture Fashion Show (Sat, 2pm)
Tanner Park Beach Car Cruise – Long Island's Hottest Car Show
Ye Pyrate Brotherhood - Pirates will be stepping ashore at the Festival throughout the weekend
Magical Show with Magician John Reid
Inflated Balloon Fashion Show -One-of-a-kind fashion show featuring custom balloon clothing created by Balloon Fashion Designer John Reid and his team
Fun-filled family festival will take place on Friday, September 13 from 6-10 p.m. (featuring live music, food and carnival), Saturday, September 14 from 11:00 a.m. - 10 p.m. and Sunday, September 15 from 11 a.m. – 8 p.m. (live music, food, carnival, vendors) along the seaside beach at Babylon's beautiful Tanner Park in Copiague.
Sponsors include the Copiague Chamber of Commerce, Town of Babylon, Nightingale PR, Beach Hut at Tanner Park, Street Wheelz, Good Samaritan Hospital & Medical Center, Dave & Busters, Skyway Pest Management, New York Life, Home Depot, Newsday, Giannini Landscaping, Hollywood Banners, Joe's Pizza, LI Presidents' Council. Media Sponsors include Village Connection, JVC Broadcasting including La Fiesta, Party 105, WRCN, My Country 96.1, South Bay Newspapers, Connoisseur Media Long Island including WHLI, B-103, K98.3 and 94.3 the Shark, WGSS 89.3, Huntington Buzz and LongIslandExchange.com. The event is partially funded by the Suffolk County Executive's Office.
For more information and timeline of activities, including sponsorship opportunities, go to http://www.lifamilyfestival.com.