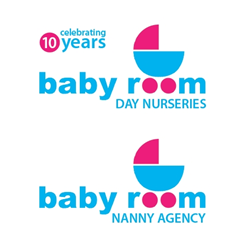 Looking back on the last ten years, we are so pleased with what we have achieved, and are excited to see what the future may hold, too.
(PRWEB UK) 25 June 2015
London-based nanny agency and nursery operator Baby Room are this month celebrating ten years of providing high-quality childcare solutions. Their first nursery opened in June 2005 with nine staff, and today they operate four nursery sites and a nanny agency with sixty staff between them. To date, the nurseries have looked after over 1,300 children, with the first now starting secondary school.
The first Baby Room nursery was established by director Alison Murray in 2005 because she could not find appropriate care for her daughter upon her return to work, and realised that other parents in the area were in a similar position. Converting the old Conservative party offices on Webbs Road, in the heart of South London's "Nappy Valley" area, she was able to sign up many potential parents before the conversion was even complete. The Baby Room name was chosen to reflect the high percentage of under-2s accepted – around half of the children registered – something which differentiates Baby Room from many of the other local nurseries.
The second nursery, on Lavender Hill, was established in 2007 after Alison had her son Tom and was offered redundancy by her employer, meaning that she was able to dedicate herself full-time to the business. Two further nurseries were established in Clapham Old Town in 2009 and Balham in 2011, each offering a small and dedicated service to local families.
Going from strength to strength, Baby Room expanded their childcare provision further in 2014 by establishing a nanny agency, providing a personalised service to place qualified, professional childcare providers with suitable families.
Director Alison Murray said: "Looking back on the last ten years, we are so pleased with what we have achieved, and are excited to see what the future may hold, too. Many of our families come from within a ten minute walk, so we still see children we cared for in nursery walking past our offices, and many go on to local schools together. We have seen them grow into lovely young people, and look forward to seeing them grow into adulthood and, perhaps, bringing their own children to us in years to come."
Baby Room are an experienced nanny agency and childcare provider based in London, specialising in the placement of qualified staff with appropriate families. They recruit a wide range of childcare and household staff, from live-in nannies to part-time mother's helps and housekeepers, to ensure that they can meet the specific needs of any household. In addition, they operate four nurseries in the South London area, providing flexible care for children from birth to five years of age.
For more information on Baby Room, their nanny agency services and their nursery provision, please visit their website at http://www.babyroom.co.uk.