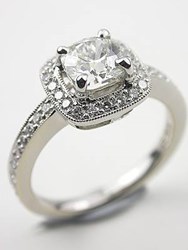 Cushion cut diamonds like the one in Bachelorette Desiree Hartsock's engagement ring have been popular for more than a century.
Atlanta, GA (PRWEB) September 04, 2013
After almost quitting the dating show, "The Bachelorette" Desiree Hartsock got her happy ending, and a gorgeous Neil Lane cushion cut diamond engagement ring to boot. In celebration of that happily-ever-after TV moment, Topazery has selected its September spotlight piece. Throughout the month, the antique jewelry boutique will be prominently featuring a cushion cut diamond engagement ring with a vintage flavor just like the one Desiree is now showing off.
Last month, a former Bachelorette vocally extolled the virtues of vintage rings. In a feature with WetPaint, Jillian Harris Talks Rings: Vintage Trumps Trendy. When asked by the entertainment publication, "Why vintage jewelry, rather than newer items?" Jillian responded, "You know what they say — they just don't make things the way they used to these days. And even if you find something sparkly and pretty from a new designer, gorgeous vintage jewelry often outshines the common costume-variety baubles that are everywhere."
It seems Chris Siegfried agreed when picking out an engagement ring for the latest Bachelorette, Desiree Hartsock. He selected a halo diamond with a cushion and a twist down the shank that has a decidedly vintage, old world feel to it. With its myriad diamonds, it is also as sparkly and shiny as they come. And that choice has already paid off, with Desiree enthusiastically accepting his proposal.
In celebration of the new happy couple, Topazery has selected a cushion cut diamond engagement ring with the same vintage appeal as Desiree's for its September spotlight piece. "This engagement ring is a really close match to Des's," explains Topazery's spokesperson. "Cushion cut diamonds have been popular for more than a century," she goes on to point out. And with good reason: The way the diamonds are arranged creates a halo of glittering light.
That nonstop glimmer will go a long way in reminding Desiree of Chris's undying devotion. After the early frontrunner, Brooks Forester, couldn't reciprocate her love and walked away, Hartsock almost threw in the towel. But after the pain of the desertion subsided, she decided to give Siegfried another chance. "I couldn't see the one thing I needed was right in front of me," she admitted before declaring her feelings for her now fiancé. Good thing she came to her senses. Otherwise, she would have missed out on the gorgeous diamond ring that now encircles her finger.
For more information on how to select a diamond engagement ring that outshines the competition, contact Jan Walden at (678) 528-8901. To browse Topazery Jewelry's full selection of vintage, antique and antique style engagement rings, visit the company online at http://www.topazery.com/.