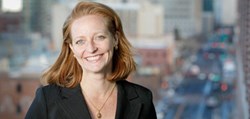 Morgan is a great fit for Bachus & Schanker because she shares our passion for helping people and cares deeply about protecting individual rights."
Denver, CO (PRWEB) November 08, 2013
Morgan Carroll, an attorney with Bachus & Schanker, LLC, recently was selected president-elect of the Colorado Senate. She is expected to be officially confirmed when the Senate reconvenes in January.
"I am honored to have been chosen by my colleagues as the President-Elect of the Colorado State Senate. I am looking forward to doing all I can to help the people of Colorado and to be able do so with the full support of Bachus & Schanker. I am grateful to be working with people who share a passion for justice," said Carroll.
Carroll cultivated her finely tuned sense of justice after spending countless hours at her parent's disability law practice. Watching her parents work on a myriad of civil rights issues piqued her desire to advocate for people who have experienced an injury or injustice.
Carroll graduated from the University of Colorado School of Law in 2000 as class president. It was while practicing law with her mother at Bradley & Carroll that she was urged by a state representative to run for political office. In 2005, she began serving in the Colorado legislature and has since earned a reputation for standing up for the disenfranchised.
From the start, Carroll bucked tradition, refusing to comply with lobbyists' requests to leave the floor to be lobbied on issues while debating and voting on the floor. While this alienated some, she quickly learned her way around the capitol and became an increasingly effective legislator. Committed to leveling the playing field for ordinary people to exercise their rights, in 2011, she parlayed her knowledge into a book, "Take Back Your Government: A Citizen's Guide to Grassroots Change" (http://www.amazon.com/Take-Back-Your-Government-Grassroots/dp/B0091X3UXG).
Carroll joined Bachus & Schanker in January 2013 as an associate attorney (http://www.coloradolaw.net/html/carroll.html), where she specializes in social security disability, personal injury, workers' compensation and employment law. She has extensive experience in state, federal, administrative and appellate courts, and is a member of several professional development organizations.
"We are tremendously proud that Morgan is part of our team, and we wholeheartedly support her work in the Senate," said founding partner Kyle Bachus. "She has an outstanding track record in leading the fight for ordinary people at the legislature over the last several years. She is a great fit for Bachus & Schanker because she shares our passion for helping people and cares deeply about protecting individual rights."
Now recognized as one of the most powerful women in the state, some people are talking Carroll could be a contender for governor. In a state with a fairly progressive record for women's rights, no woman has ever held the highest statewide office, governor or secretary of state. For the immediate future, she plans on continuing to practice law, believing that by being in touch with the personal issues that people experience, she can be a better legislator.
"I've been very lucky to have the opportunities to make a difference in people's lives, both through my work as a legislator and as an attorney," says Carroll.
About Bachus & Schanker, LLC
Bachus & Schanker, LLC is a nationally recognized personal injury law firm located in Colorado with offices in Denver, Colorado Springs and Fort Collins. With a staff of more than 50 people, including 15 trial lawyers, Bachus & Schanker has represented thousands of clients across the country. Bachus & Schanker is committed to protecting and enforcing the rights of people injured by the negligence of others, offering to each client a level of representation and personal attention usually reserved for only the most powerful corporations. The firm supports local nonprofits through its Bachus & Schanker Cares Foundation. Visit Bachus & Schanker at http://www.coloradolaw.net/ to learn more.