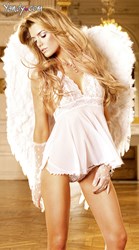 (PRWEB) August 21, 2013
Yandy.com, online retailer of women's intimate apparel, has re-introduced high end, luxury lingerie designer, Baci Lingerie, to the e-commerce site.
With new and exciting items coming out of the luxury lingerie brand, Yandy decided to begin carrying Baci again as an added benefit to the sites lingerie shoppers. "We saw a niche that needed to be filled and we knew that Baci would be the perfect brand to fill it," said Yandy CEO, Chad Horstman. "Baci is a unique company with it's high end lingerie pieces available at affordable prices. It was just something we knew our customer base appreciates and we could no longer pass it up," added Horstman.
The most notable items Baci recently started offering are the new line of lingerie costumes. Designed to add a little spark back into the bedroom, Baci's lingerie costumes include noteworthy items like the eye catching First Class Flight Attendant set which includes a white mesh bra top, garter skirt, flight attendant hat and neck scarf for $31.95 and the military-inspired camouflage print bra top, mini mesh skirt and matching thong set for $25.95. Traditional lingerie costumes like French maids and nurses also made the cut in Baci's new bedroom collection and remain as popular a choice as ever on Yandy.
While Baci certainly turns heads with the new lingerie costume collection, the company is most notably known for more traditional lingerie items available at obtainable prices. With luxurious items like lace teddies and chiffon chemises starting as low as $14.95, the Baci collection on Yandy is affordable for those on even the most strict of budgets.
About Yandy.com
E-commerce is on the rise and Yandy.com is one of the largest online retailers of lingerie, sexy Halloween costumes, swimwear and clothing on the web. Founded in 2005, Yandy boasts more than 7,000 products always in stock at easily affordable prices. Yandy ensures that every costumer will receive a safe, secure and private online shopping experience and is backed by COMODO online security and Google Checkout. Yandy is dedicated to customer service and only sells what is in stock which allows for quick, same day shipping. Offering the highest quality products at the most affordable prices in the market, Yandy has become a leader in ecommerce. Yandy works closely with all of the manufacturers they distribute for and hand select all of the items on the Web site to ensure customers have the largest and most diverse collection to choose from. In addition, the customer service team at Yandy is unrivaled. With attentive and helpful operators, should a question or problem arise, the customer service team at Yandy is always willing and able to assist. At Yandy, every customer can Be Sexy. http://www.yandy.com/
###