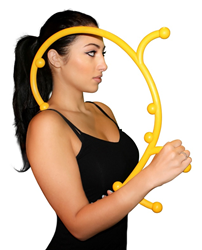 The back massager is highly recommended by physical therapists to effectively treat sore muscles, aches, and pains across your entire body
New York, NY (PRWEB) September 30, 2014
Nayoya Wellness, a company that offers quality products that help address people's wellness and fitness needs, is proud to announce the launch of a new and innovative manual back massager. The Nayoya Back Hook Massager, which is available at Amazon, features nine knobs that can be used for trigger point therapy, myofascial release, and to help people gently knead their tight and tense back and shoulders.
In order to celebrate the release of the new back massager, customers can visit the main Nayoya Wellness website at Nayoya.com, where they can find a coupon for 20 percent off.
Since the day Nayoya Wellness opened over five years ago, they have strove to offer their customers only the best quality physical therapy equipment and wellness-related products. As a company spokesperson noted, the new Nayoya Back Hook Massager from Amazon allows people to easily massage their sore muscles, aches and pains. From CrossFit trainers and other athletes who overdid it at their last workout to tired moms who spend hours a day lifting and carrying their toddlers, the Nayoya Back Hook Massager is sure to bring blessed relief.
The secret to the back massager's success is its hook shape design; this makes it easy to reach virtually any part of the body and really massage the sore muscles to help make them heal faster.
"The back massager is highly recommended by physical therapists to effectively treat sore muscles, aches, and pains across your entire body," the company spokesperson said, adding that the back hook massager is extremely handy for people who have hard to reach spots that need constant attention.
"The lightweight design of the hook massager makes any part of your body easy to reach."
As a bonus, the new massager comes with a risk free 60 day money back guarantee, as well as a complimentary nylon carrying case. Anybody who would like to learn more about the new Nayoya Back Hook Massager may visit the Amazon page; there, they can see photos of the product as well as an in-depth description of how it works.
About Nayoya Wellness and the Nayoya Back Hook Massager:
At Nayoya Wellness their motto is "Pain Free, Stress Free Living" and that is exactly what they deliver to their customers' doorsteps with quality products that address peoples' daily fitness and wellness needs. Launched over half a decade ago, Nayoya Wellness is currently one of the leading wellness companies in North America specializing in manufacturing and distributing Best-in-Class products for different fitness and wellness needs. For more information, please visit http://www.amazon.com/Manual-Massager-Patent-Pending-Shoulder-Massaging/dp/B00M3IN2MK