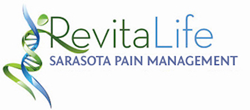 Over a year of consistent back pain relief is typical with the nonoperative radiofrequency ablation treatment!
Sarasota, Florida (PRWEB) August 31, 2015
Top pain management clinic in Sarasota, Revitalife, is now offering a revolutionary treatment for back pain known as radiofrequency ablation. The treatment is performed by Board Certified physicians and typically offers over a year of consistent back pain relief. Call (941) 404-7640 for more information and scheduling.
Radiofrequency ablation, also known as radiofrequency lesioning, has been one of the top pain management treatments available in this century due to its low risk and exceptional benefit. There are very few pain treatments that are able to offer over a year of typical relief.
RFA provides exactly that for over 80% of patients, and if the relief wears off it can be repeated with the expectation of another amazing result. It is great for those with spinal arthritis, scoliosis, failed back surgery and more.
For those patients suffering from chronic back or neck pain, most available treatments only offer a few weeks to a few months of relief. Radiofrequency procedures have been much more successful and are covered by most insurance plans.
Along with radiofrequency ablation for chronic back pain, Revitalife also offers stem cell therapy options as well. These are exceptional for degenerative disc disease and spinal arthritis.
The typical pain treatments for the lower back are also provided such as facet joint injections, epidural steroid injections and trigger point as well. Most insurance is accepted at Revitalife, with the pain doctors being highly skilled and compassionate to each and every patient.
For the top pain management Sarasota Fl trusts, call (941) 404-7640 today.