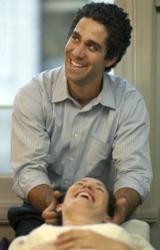 San Francisco, CA (PRWEB) July 03, 2013
Spine magazine has just released the findings from a study done on patients with acute low back pain. ProActive Chiropractic, a chiropractic practice that prides itself on its patient focused care, wants to share the findings of the study.
Two groups of patients were treated, according to this most recent study. One group was treated with standard medical care and the other with chiropractic care.
In the study, patient pain was measured using the Roland-Morris Disability Questionnaire and the back pain functional scale (BPFS). The Roland-Morris questionnaire is the widely used health status measure for low back pain. In the four-week study, the scoring of patient pain showed that patients treated with both chiropractic care and standard care had significantly less pain than those treated with just standard medical care.
According to the study, found here, "Seventy-three percent of participants in the standard medical care plus chiropractic manipulative therapy group rated their global improvement as pain completely gone, much better or moderately better, compared to 17 percent in the standard medical care group."
ProActive Chiropractic is well aware of how chiropractic care can help patients to reduce or eliminate low back pain. They use a range of techniques and exercises to provide relief, "At our office, we integrate the exercises with the chiropractic care to get even better results. Whether the neck pain came from skiing, swimming, a long day in front of the computer with poor posture or you woke up with neck pain, we can help," states Dr. Andrew Cohen of ProActive Chiropractic.
Dr. Cohen stresses that patients should not wait through pain; they should see a chiropractor to address the problem immediately. To take a more proactive approach, the following video on exercises patients can do at home may help as well, http://www.youtube.com/watch?v=oPl_aaUHvDU.
To make an appointment with ProActive Chiropractic, please call (415)762-1542.
About the company:
ProActive Chiropractic practices healthcare the old-fashioned way. Care is provided in the chiropractic office by doctors; not a machine, not an assistant, not a technician. Customers spend a minimum of 20 minutes of face-to-face time with chiropractic doctor, Andrew Cohen, perhaps the best chiropractor in the Bay Area, at every appointment. He sees patients for low back pain, neck pain, shoulder dysfunction, knee complaints, ankle sprains, jaw pain and migraine headaches, just to name a few primary complaints.
For those unsure that ProActive Chiropractic's unique approach to chiropractic treatment is the right avenue to take, consider their satisfaction guarantee. Their personal pledge assures that their customers are happy with their practice philosophy and approach. If customers are not completely satisfied following their first session, simply tell the staff at the end of the appointment and they will refund the money in full on the spot. For more information, please visit their website at http://www.ProActiveSF.com.