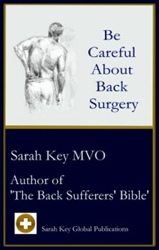 Armed with vital background information, you will be able to discuss the issues with your spine surgeon and at the very least, make an informed decision - and very importantly - without a heavy heart, if you do decide to go with the way of surgery
Sydney, Australia (PRWEB) February 10, 2015
Sarah Key is a highly acclaimed Australian physiotherapist and author of the best-selling book "Back Sufferers' Bible". She has just published a small new eBook about back surgery that takes a close look at the controversial debate between spine surgery and more conservative treatments for back problems.
Famous for treating the British Royal family, as discussed in an article in the Daily Mail published on 25th of January, 2008, Sarah is no stranger to controversy as she mobilizes human spines with her feet, and advises patients to do their own self-help spinal decompression regime using a Back Block.
Sarah Key is familiar with all sorts of spinal conditions, from the simple to the complex: sciatica, spinal stenosis, scoliosis, bulging discs and many other degenerative spinal disorders. Her view is that disc replacement surgery, spinal implants and other so-called "surgical solutions" are not the procedures of first choice to fix these problems.
In "Be Careful About Back Surgery" Key explains how the human spine is an extremely sophisticated structure and surgery should not be the automatic go-to treatment option for back pain, no matter how severe. As Key notes, her years of treating problem backs has provided her with valuable insights into how and why back surgery can fail - indeed, often leaving patients worse off than they were. As she says, "'failed back surgery syndrome' is an increasingly well-recognized diagnosis these days."
"By providing the typical signs and symptoms of cases that probably do need to go to surgery, Sarah Key gives you a fuller picture and arms you with knowledge, so you will know whether you are beyond help through conservative therapies," an article on the book's Amazon page explains.
"Armed with vital background information, you will be able to discuss the issues with your spine surgeon and at the very least, make an informed decision - and very importantly - without a heavy heart, if you do decide to go with the way of surgery."
For more information about Key's new eBook, go to the Amazon page where people can see reviews from readers who have already benefited from Key's knowledge and experience.
About Sarah Key:
Sarah was first published in 1986 with "Back in Action". Next came "Body in Action", "Back Sufferers' Bible" and most recently "The Back Sufferers' Pocket Guide". Her most popular book "The Back Sufferers' Bible" is the market leader in the UK and Australia. She divides her professional life between Australia and the UK where she treats patients with her Back-in-a-Week Intensive Spinal Therapy Programs and runs her "Problem Back Masterclasses" for graduate physiotherapists. She has recently been made an Honorary Fellow of University of Salford. Her increasingly popular websites are simplebackpain. com and sarahkeyphysiotherapy. com.
"Be Careful about Back Surgery" is available on Amazon Kindle.