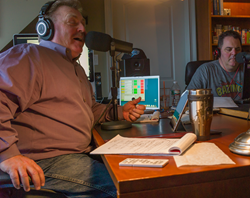 Backbone made it easy for us to start up our daily newspaper's talk radio station with all the bells and whistles.
Westborough, MA (PRWEB) February 19, 2015
Backbone Networks announces the release of Backbone Talk™, a multi-line, call-in phone system in the cloud enabling 24/7 talk radio stations to engage their listening audience from anywhere in the world, using only a Macintosh computer, without any additional hardware. Provided as a service feature, Backbone Talk integrates smoothly to elevate production values in sports, news and talk shows in both studio and remote broadcasts. Combined with the company's Backbone Radio suite, which also uses a Macintosh to access the service in the cloud, the result is a complete talk radio station that can produce professional shows locally, remotely and with co-hosts around the globe.
Because of its local/remote call screener capability, talent can focus on the conversation, while the call screener uses his Macintosh to answer, conference, block, and/or record calls. Optional features include a high fidelity guest line, which permits multiple co-hosts in different cities; inbound text displays on the same phone line; and a digitally integrated caller feedback line for listeners to record voice messages into Backbone automation for later air play.
Jeff Bundy, who oversees the Omaha World-Herald's internet radio operation, noted that "Backbone made it easy for us to start up our daily newspaper's talk radio station with all the bells and whistles. We have a prominent Nebraska sports talk personality in Mike'l Severe, and Backbone's service gave us the means to take calls and put them on the air. We now have the ability to take our sports talk show on the road, phone system and all, and that has really helped us get out in the community to broadcast.
According to Glenn Ordway, host of the Big Show Unfiltered, "We've been able to use Backbone Radio to take Boston sports talk radio to a new level, not only integrating our phone system callers, but also our famous "Whiner Line" where our listeners add their humorous comments at the end of our shows. The way Backbone Talk seamlessly places that those calls into the automation system has dramatically improved our workflow. That saves us time in editing and arranging those calls compared to when we did this in the past."
Chris Day, Director of Broadcast for Major League Lacrosse, loves the guest line feature. "During our broadcasts the guest line feature enables us to include national commentators in our broadcast. The audio quality of the connection makes it sound like they are right there in the booth with us."
Backbone Talk is available now for Backbone Radio customers. Please contact us for more details and a free trial.
About Backbone Networks
Backbone Networks creates professional, turnkey online radio stations and networks through its cloud-based production and automation software, syndication tools and streaming distribution. We specialize in news/talk/sports radio, with integrated call-in multi-line phone system, and remote broadcasting, tagline: "Your Station Anywhere". Backbone also operates the largest online network of college radio stations.