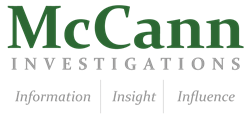 When you're investigating something as complicated as bankruptcy crimes, you need to do your due diligence research.
Houston, TX (PRWEB) March 26, 2014
McCann Investigations, a firm operating throughout Texas in the areas of private investigations and digital security, announced that it provides thorough background research to assist in bankruptcy crime investigations.
The most common bankruptcy crimes include multiple or invalid filings, bankruptcy fraud and more. Rather than diving right into investigations of the actual crime, McCann's investigators first perform detailed background checks into the investigation target to learn more about his or her history. Findings that the investigators gain during this analysis period can have a major influence on how the rest of the investigation proceeds.
"When you're investigating something as complicated as bankruptcy crimes, you need to do your due diligence in research," said Daniel Weiss, Managing Partner at McCann Investigations. "Our investigators have been trained extremely well in how to find relevant information in a target's background during this initial research period."
As McCann's Houston investigators prepare their investigation, they begin by determining the nature of the problem and what the source of the client's issue is, and then ask the client what they might know about the investigation target. After investigating all information provided by the client, investigators can piece this information together to form a more solid image of the analysis target. From there, the investigators review background information such as criminal records, personal history and more. They also look for evidence left behind in the target's digital footprint, often in emails, texts, pictures and more.
"We use every available avenue to uncover evidence, but finding those avenues really starts with the background research we do right at the start," said Weiss. "This comprehensive approach to bankruptcy investigations gives us an edge in every case we handle."
For more information about the services provided by McCann Investigations in the Houston area, visit the company's website at http://www.mccanninvestigations.com and follow the company on Twitter at @mccangi.
About McCann Investigations
McCann Investigations is a Texas-based private investigations practice focused on comprehensive investigations incorporating digital forensics, surveillance, undercover work and background checks for clients in various case types. Service areas include intellectual property theft, non-compete enforcement, fraud, embezzlement and family law. McCann Investigators are experts in the latest computer forensics tools and are licensed with the state of Texas. McCann examiners have provided expert testimony and reporting in hundreds of cases across the state.