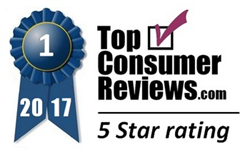 With their impressive database of records and affordable pricing, eVerify is our 2017 winner among providers of Background Checks.
Overland Park, KS (PRWEB) March 15, 2017
TopConsumerReviews.com recently gave a best-in-class 5 star rating to eVerify, a leader among online services offering Background Checks.
Who needs a background check? Anyone who wants to "trust but verify" an individual in their life, from babysitters and other household workers to prospective employees and volunteers. Particularly in positions that require a high level of security - financial institutions and schools being two of the most common examples – it's critical to take every possible step to ensure the trustworthiness of people entrusted with the well-being of students, customers, or clients. Today, there are a number of online services that allow everyone, from employers to everyday citizens, to obtain a background check.
"Whether you need a single background report or you need to run many background checks each month, eVerify is your best bet," according to Brian Dolezal of TopConsumerReviews.com, LLC. "With more than a billion records covering all 50 United States, their databases are extremely comprehensive, from marriage and divorce records, to criminal records and convictions - and much more. Amazingly, customers only need a small amount of information to begin a background check: phone number, name, address, or email. For the same price as a single full background check, you can get unlimited monthly searches with eVerify's Search Pass, which is especially affordable if you anticipate needing to run more than one in a 30-day period. With their impressive database of records and affordable pricing, eVerify is our 2017 winner among providers of Background Checks."
To find out more about eVerify and other Background Check providers, including reviews and comparison rankings, please visit the Background Checks category of TopConsumerReviews.com at http://www.topconsumerreviews.com/background-checks/.
About eVerify
eVerify of Boston, Mass., was founded to provide consumers with state-of-the-art tools to protect themselves from online scams and criminals. From Criminal and Court Records to Genealogy Documents and Asset Searches, eVerify's database has more than two billion records covering all 50 states. Additionally, their Deep Web Search allows customers to uncover hidden Social Network accounts, Websites, Forum Posts, Blogs, Images, Videos and more.
About TopConsumerReviews.com
TopConsumerReviews.com, LLC is a leading provider of independent reviews and rankings of hundreds of consumer products and services. From Background Checks to Identity Theft Prevention and People Searches, TopConsumerReviews.com delivers in-depth product evaluations in order to make purchasing decisions easier.