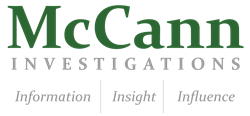 You can never be too careful when screening potential employees and our background checks help you to verify you will be working with someone you can trust
(PRWEB) November 13, 2013
McCann Investigations, a Texas-based firm specializing in both private investigations and digital security, recently announced that it now has made its background check services available to clients in and around San Antonio.
The firm provides thorough background checks that are an important part of determining the trustworthiness of potential volunteers and/or employees. During these background checks, investigators search for a criminal record, the state of a person's credit or rental history, his or her employment history and more important information.
"You can never be too careful when screening potential employees, and our background checks help you to verify that you will be working with someone you can trust," said Daniel Weiss, Managing Partner at McCann Investigations. "These services come at a price that businesses can afford, ensuring that they can preserve their safety at a reasonable cost."
In addition to providing these checks for nonprofit organizations and San Antonio businesses, McCann also helps government agencies to grant employees with levels of security clearance, firearms dealers to conduct checks when making sales, and more. Background checks are also a necessity when a person applies for a concealed weapon permit or when purchasing weapons modifications.
From its San Antonio location, McCann Investigations has a number of investigators who perform rigorous analysis of a large list of sources, including character references, employment references, credit and employment history and more. By taking this information into account, the firm's investigators can then recommend to the client whether or not that person should be considered for a position.
"We don't want you to have any doubts at all as to the character of your applicants," said Weiss. "These services make it so that you can feel secure at all times in all of the personnel decisions that you make for your company or organization."
For more information about the services provided by McCann Investigations in the San Antonio area, visit the company's website at http://www.mccanninvestigations.com and follow the company on Twitter at @mccangi.
About McCann Investigations
McCann Investigations is a Texas-based private investigations practice focused on comprehensive investigations incorporating digital forensics, surveillance, undercover work and background checks for clients in various case types. Service areas include intellectual property theft, non-compete enforcement, fraud, embezzlement and family law. McCann Investigators are experts in the latest computer forensics tools and are licensed with the state of Texas. McCann examiners have provided expert testimony and reporting in hundreds of cases across the state.