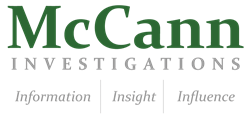 Any employer or volunteer coordinator needs to be sure that they are bringing in people that they can absolutely trust
Houston, TX (PRWEB) August 24, 2013
McCann Investigations, a firm specializing in digital security and private investigations, recently announced the availability of its background investigation services.
The firm now performs background checks for businesses and organizations that desire to know more about the people that they will potentially be working with. A standard background check focuses on determining whether or not an individual has a criminal record, and can also uncover details such as credit history, employment history, rental history and much more.
"Any employer or volunteer coordinator needs to be sure that they are bringing in people that they can absolutely trust," said Daniel Weiss, Managing Partner at McCann Investigations. "Our background investigation services are an easy and efficient way to ensure that trust."
In addition to background checks before jobs or volunteer opportunities, background investigations are also used whenever a person (typically a potential government employee) must be evaluated before being granted certain levels of security clearance. Background investigations are also used whenever a person wishes to purchase a handgun or restricted firearm, obtain a concealed weapons permit, purchase weapon modifications (such as suppressors) or purchase a large amount of precursor chemicals.
Investigators who perform the background checks for Houston-area clients analyze such information as employment references, character references, credit history, gaps in employment history and more to come to a final conclusion on the overall character of the investigation target.
"At McCann, we always encourage our clients to be as safe and secure as possible in every aspect of their operations," said Weiss. "Offering these background investigation services was a natural step in continuing to provide the best security services possible in the Houston area."
For more information about the services provided by McCann Investigations in the Houston area, visit the company's website at http://www.mccanninvestigations.com and follow the company on Twitter at @mccangi.
About McCann Investigations
McCann Investigations is a Texas-based private investigations practice focused on comprehensive investigations incorporating digital forensics, surveillance, undercover work and background checks for clients in various case types. Service areas include intellectual property theft, non-compete enforcement, fraud, embezzlement and family law. McCann Investigators are experts in the latest computer forensics tools and are licensed with the state of Texas. McCann examiners have provided expert testimony and reporting in hundreds of cases across the state.