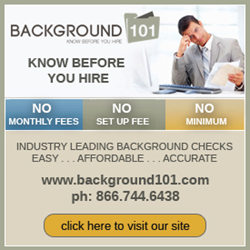 Call 866-744-6438 Ext. 277 or jbeck@background101.com,for a free in-depth analysis and learn how to fully optimize a custom background screening program.
Boston, Massachusetts (PRWEB) August 13, 2014
U.S Based Background101.com, a trusted background screening service for over 15 years, is pleased to announce a complimentary background check/employee screening analysis program.
Background101's business model is a perfect fit for companies who need background check flexibility. Whether it's a new business in need of more information or a company that is using another background check provider, Background101 can help. Provide Background101.com with the background check requirements, and a custom package will be prepared to match a business's specific requirements.
Regardless of current economic conditions, spending money wisely within any organization is always a top priority. Not all positions require the same level of screening. Every applicant's screening can be customized to the level of security needed. Businesses will spend only what's necessary every time.
Background101.com continues to provide the latest background data, accurate reports, superior customer support, and commitment to best practices, multi-source data access and employee re-screening services to all qualified businesses, including Fortune 200 companies.
Conducting background screening on employees has become a matter of necessity for employers for several reasons.
Many applicants make false claims on their job applications/resumes or have been involved in criminal activity which they may not disclose. Pre-screening is a wise investment to ensure a secure workplace and protection against negligent hiring lawsuits.
Failure to screen current and prospective employees can cost organizations of all sizes a significant outlay of cash and resources. Performing regular re-screening of employees is essential to the protection of every business. An individual's personal situation can change at any time. By putting a screening program in place, risk will be minimized while monitoring changes at all levels.
"Our professional background screening product is scalable for any size organization and consists of a wide variety of complex components," said Joe Beck, Background101.com Director of Corporate Sales. "The complimentary background screening analysis has been well received and we work closely with all of our customers to provide the best and most accurate information available," said Beck. "Our primary goals are protecting the client's workforce while assisting them to make intelligent hiring decisions consistently and confidently."
Backround101's unmatched industry experience and reputation spans the complete spectrum of background employee screening services with no sign up fees, no minimum requirements, and no monthly fees.
Background101 Advantages: "Hire the Right People for Your Organization"
Background101's FCRA compliant screeners are trusted by organizations of every size nationally and internationally. The privacy and personal data of all job candidates and employees is secure. Background101's award winning customer support and attention to detail will reduce risk and increase compliance.
Background101.com Offers Clients a Wide-Range of Affordable Screening Services:

Address History (up to 20 years)
SSN Verification (all discrepancies examined and reported)
Employment Verification (United States or Internationally)
Education Verification (all levels verified Nationally and Internationally)
National Criminal Database Scan (millions of records in all states)
Motor Vehicle Driving Records (residential and commercial)
Civil Records Search (7-10 years – based on state laws)
Criminal Record Checks (7-10 years – based on state laws)
Bankruptcy Check (U.S. District, Bankruptcy, and Appellate courts)
Sex Offender Registry Search (photos provided when available)
Office of Foreign Asset Control (OFAC) – (sanction check)
Credit Reports (complete assessment of credit related risk factors)
Professional License Verification (examines all aspects of certification)
About Background101.com: "Know Before You Hire" & "Avoid Surprises"
Background101.com, located in Boston, Massachusetts, has been a trusted and leading provider of background screening information for more than 15 years and one of the nation's most recognized pre-employment and existing employee screening services that features the latest technology, FCRA compliant professionals and secure data.
Customers are provided with the information they need quickly, it's simple to submit information and easily access completed reports.
A team of experienced FCRA compliant screening professionals provides information that is legal, current and accurate. Personalized Support & Training is Included with All Accounts.
Background101.com partners with clients during each step of the background research and screening process. Every background screening program is customized to meet a client's particular requirements, saving valuable time and money.
Call Joe Beck - 866-744-6438 Ext. 277 or jbeck(at)background101(dot)com,for a free in-depth analysis and learn how to fully optimize a custom background screening program.