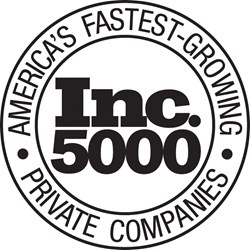 Arlington Heights, IL (PRWEB) September 04, 2013
Aurico has earned recognition on Inc. Magazine's list of America's 5,000 fastest-growing privately held companies three years in a row. In 2013, Aurico has achieved the ranking of 2,732 on this prestigious list; an improvement of 1090 spots over the 2012 rank.
"It's a great honor to be a three time Inc. 5000 winner and it speaks volume of the dedication and effort of every employee at Aurico," says Ben Goldberg, President of Aurico. "Their passion and dedication to providing exceptional service to our clients is the reason we continue to earn recognition."
Aurico has seen tremendous growth in the last three years and has sustained 128% revenue growth. "The Inc. 5000 was harder to get into this year than ever in its history," says Inc. 5000 Editor in chief, Eric Schurenberg. Aurico's commitment to leveraging technology to support client operational workflow efficiency coupled with relentless focus on report quality and service continues to position Aurico for a long-term ranking on the Inc. 5000 list.
In addition to Aurico's sales growth, the company has nearly doubled the number of jobs since 2011, which places Aurico as a candidate for the Inc.com Hire Power Awards.
About The Inc. 5000 List: The Inc. 5000 are responsible for creating more than one million jobs since their founding, making the list perhaps the best example of the impact that private, fast-growing companies can have on the economy. Complete results of the Inc. 5000, including company profiles and an interactive database that can be sorted by industry, region and other criteria, can be found on Inc.com.
About Aurico: Aurico is an NAPBS accredited and ISO 9001:2008 certified background screening and drug testing company. With over 22 years of experience, Aurico provides clients with high quality screening, compliance tools, paperless solutions and is nationally recognized on HRO Today's Baker's Dozen Customer Satisfaction list of top screening providers. Our award-winning WebACE™ technology is pre-integrated with the premier applicant tracking systems for efficient integration.