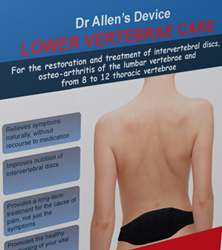 Dr. Allen's Device is the first successful solution for lower back pain that treats herniated discs and sciatica without drugs and surgeries.
London, GB (PRWEB) February 05, 2014
Fine Treatment advises to use Dr. Allen's Devices for the treatment of chronic back pain and sciatica; they have demonstrated remarkable efficacy without resorting to painkillers, other medications and surgeries. The natural Thermobalancing therapy enabled by Dr. Allen's Devices addresses and solves concerns people have over mainstream treatments.
"Are you worried that many pain cures are actually unsafe and can lead to addiction and/or an accidental overdose? Are you afraid that taking a pain killer will end your sex life?" asks a recent article, 'Natural Back Pain Cure: What's Good for the Neck Works on the Butt', of January 30, 2014, and quotes Dr. Oz proposing natural pain killers, such as corydalis, butt pillow and magnesium.
The importance of using natural back pain relief solutions has been also underlined by Dr. Mercola in a new article 'Back Pain: Exercise May Be Essential for Treatment', in The Canadian - Agora Cosmopolitan (February 2, 2014), saying "Back pain is actually one of the primary reasons why so many Americans are getting increasingly addicted to painkillers. These drugs have now surpassed both heroin and cocaine as the leading cause of fatal overdoses in the US! These treatments do not cure back pain—they only treat your symptoms."
"Debilitating pain can make people surrender to damaging pain killers and harmful back surgeries. So it is a doctor's responsibility to clearly explain the side effects and complications their patients can expect from these conventional treatment options," comments Dr. Simon Allen.
Dr. James Rainville, a rehabilitation medicine specialist at the New England Baptist Hospital in Boston, notes that "Surgery should be your absolute last resort. Remember you simply can never undue a surgical intervention and the multitude of repercussions that surgery introduces. Surgery is an injury…extreme injury, even though controlled."
With Dr. Allen's Devices, there is need for prolonged courses of painkillers or other medications and back surgeries, as they target the source of pain giving a powerful pain relief naturally. There are 2 back pain devices: one is designed for sciatica pain, which can be experienced on one or both sides of the spine, and sometimes goes all the way down the leg; the other device cares for the lower spine.
It's important to wear the device so that it covers the sore area. And that's it! The device works all the time while worn enhancing blood circulation locally. You can watch a short video on how easy it is to use Dr. Allen's Device for back pain and sciatica relief: http://www.youtube.com/watch?v=6WwI1TvlXOs.
"The number of doctors and users advocating natural pain relief with Thermobalancing therapy is on the rise. I genuinely pleased," notes Dr. Simon Allen. "Dr. Allen's Device is the first successful solution for lower back pain that treats herniated discs and sciatica without drugs and surgeries."
For details, please visit Fine Treatment at http://finetreatment.com/sciatica-treatment-sciatica-pain-relief/.
About Dr. Simon Allen and Fine Treatment:
Simon Allen, MD, PhD, Academician, member of the ATA, is a highly experienced medical professional. His specialty is in internal medicine. He has treated a wide range of chronic diseases, including patients after a heart attack, with kidneys problems, including kidney stones disease, prostate and spine conditions, as well as metabolic disorders. Fine Treatment ensures international availability of Dr. Allen's Devices for chronic prostatitis and BPH treatment, coronary heart disease, dissolving kidney stones, as well as upper and lower back pain and sciatica relief.