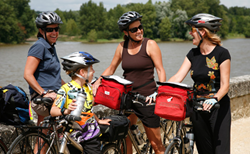 San Francisco, CA (PRWEB) March 27, 2014
There is no bigger name in multisport adventures than Backroads. This ultra-successful touring company has a wonderful reputation and the good news for families is that they have a growing family offering. Here's a list of their top family trips for 2014:
Brittany & Normandy Biking: From D-Day Landmarks to the Emerald Coast
Families will visit colorful villages, bike to legendary beaches and explore the magical island monastery of Mont-St-Michel. Along the way, kids can go horseback riding, get a hands-on lesson in the art of glass blowing and chat with a local historian.
Czech Republic & Austria Biking: Bohemian Knights & Danube Castles
Fairytale castles on the horizon. Ancient cobblestones beneath frolicking feet. The Danube River, a fascinating falconry show and a theatrical sword-fighting demo performed exclusively for Backroads guests. And a trove of lifetime family memories!
Iceland Multisport: Nature, Culture & Adventure at the Edge of the Arctic Circle
Glaciers, volcanoes, fjords, geysers, waterfalls… Families experience Earth's most stunning natural wonders in incredible Iceland! Traveling by bike, foot, Zodiac, plane, horse and "super jeep," everyone enjoys letting off steam in the Land of Fire and Ice.
Ireland Bike Tour: A Pot O'Gold for Families in Counties Cork & Kerry
The whole gang will adore what's in store while pedaling through Ireland's west Cork and Kerry: peaceful routes past green hills, quaint cottages and woolly sheep, a rich look at regional history and village culture, and a stay at the venerable Park Hotel Kenmare.
Loire Valley Biking: Fun in France's Regal Touraine
Easygoing routes for younger riders and lots of options for the older crowd. Treats at patisseries, gourmet cuisine and exquisite wines. A visit to Leonardo da Vinci's house and a fencing lesson just for kids. History come to life. This is truly a family vacation nonpareil.
Pyrenees to Costa Brava Biking: Catalonia's Peaks to Mediterranean Beaches
Kids will be thrilled with the bike rides, rock climbing, pottery making and beach time. Grownups will love pedaling scenic routes in the Pyrénées foothills, seeing landscapes that inspired Salvador Dalí, and savoring sun-kissed Catalan wines.
Tuscany Biking: Pedaling & Pizza North of Siena
Sublime scenery takes center stage on family-friendly biking routes amid ancient hill towns, sprawling vineyards and cypress-lined lanes. There's wine tasting for the adults. Hands-on pizza making for the kids. The perfect family adventure in Tuscany.
With an average tenure of 17 years, Backroads Trip Designers have the ideal balance of passion, intuition and high-level expertise to create truly remarkable experiences that provide an overall sense of journey while leaving guests free to add their own unique imprint. During the hundreds of behind-the-scenes hours that go into crafting each itinerary, Backroads finds the right blend of activities to showcase the best of a region, creating a rich tapestry that enable guests to explore as fully as they wish. Having all been Trip Leaders, they've seen firsthand what guests find most meaningful.
Backroads is one of the hand-selected sponsors of the Smart Parents Guide to Family Adventure Travel, a guide to frequently asked questions and concerns for families considering a trip with a tour operator.The guide is a PDF for easy access from a desktop or mobile device.
####
Ciao Bambino! is a leading family travel brand and global family travel planning website featuring curated family-friendly hotel reviews, an award-winning family travel blog offering tips, news, and narratives related to traveling with kids of all ages, and a comprehensive Family Vacation Consulting service. Get more information on CiaoBambino.com.