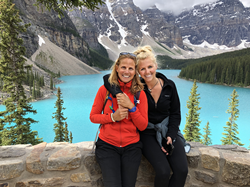 "It's important to understand the value of family travel for all ages, especially as the kids get older and roles between parents and adults evolve," said Backroads Founder and President, Tom Hale
BERKELEY, Calif. (PRWEB) July 25, 2019
Backroads, the leader in active travel, today announced a bold move to further expand family offerings with the launch of a new age segment for families traveling with adult kids in their 20s and early 30s. This new 20s & Beyond segment furthers Backroads commitment to families traveling at each life stage and complements existing trips for families with Younger Kids (4-12), Kids & Teens (9-19), as well as Older Teens & 20s (17-23). The new departures for families with adult children, categorized as 20s & Beyond, expand age-specific offerings to four distinct segments for families to choose from.
By segmenting families into age groups, Backroads has redefined family travel and is the only active/adventure travel company that offers activities and experiences tailored to the unique needs and interests of specific age groups.
20s & Beyond trips offer a welcome break from juggling life's demands and allow the family to enjoy activities with as much togetherness, or time apart, as desired. Everyone relishes their own interests at their own pace, enabling family members to connect as adults—or better yet, as friends.
"As a father of three kids, I know how much more enjoyable it is traveling with families with similarly aged kids," said Backroads Founder and President, Tom Hale. "My kids' interests and activity levels have changed over the years as they've grown, and it's important for travel to fit those changes. I haven't identified a single travel company that offers such focused and high-quality family offerings as Backroads does. It's important to understand the value of family travel for all ages, especially as the kids get older and roles between parents and adults evolve."
At Backroads, we started designing unique trips for specific age groups so that kids can participate in activities that are planned especially for them. No other travel company caters to families like we do."
Backroads now runs more than 140 family itineraries across 85+ destinations. The company has recently added family trips in Greece, Sicily, French & Italian Alps and the Canadian Rockies.  Packed with options, Backroads Family Trips offer opportunities to explore actively together in exciting locations, bonding over fun activities that take everyone outside their usual routine.
About Backroads
Backroads was founded in 1979 by Tom Hale and has been a leading innovator in active and adventure travel for over 40 years. The company hosts thousands of guests each year, 75% of whom are repeat guests or referrals from past guests, in hundreds of locations across the globe. Backroads is a founding member of the Adventure Collection. For more information, please visit backroads.com. Or call 800-462-2848 daily, 6 a.m. to 6 p.m., Pacific time.