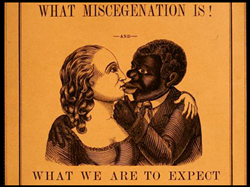 "Queer African Americans have played a really significant role in creating the queer subcultures." - Cookie Woolner
CHARLOTTESVILLE, Va. (PRWEB) February 18, 2019
BackStory, an American history podcast produced by Virginia Humanities, releases "Love Off Limits: A History of the Relationships Once Considered Taboo in America."
BackStory celebrates love with an episode about the relationships that challenged social norms and transcended class, race, and gender in American history. Brian Balogh, Nathan Connolly and Joanne Freeman explore how people subverted laws banning interracial marriage, the development of the first queer African American community networks during the 1920s and why a wave of heiresses running away with their coachmen caused a moral panic in the Gilded Age.
Joining Balogh, Connolly and Freeman are Nancy Rubin Stuart, Rachel Moran, Cookie Woolner and Carolee Klimchok.

Stuart is an award-winning writer. She is the author of "Defiant Brides: The Untold Story of Two Revolutionary-Era Women and the Radical Men They Married."
Moran is Dean Emerita and Michael J. Connell Distinguished Professor of Law at UCLA School of Law. She is the author of "Interracial Intimacy: The Regulation of Race and Romance."
Woolner is at work on her latest book "The Famous Lady Lovers: African American Women and Same-Sex Desire Before Stonewall." She is an assistant professor of history at University of Memphis.
Klimchok is a visiting professor at University of Texas at Dallas
"Love Off Limits: A History of the Relationships Once Considered Taboo in America," is available now. Find it and every episode of BackStory on the website (http://www.BackStoryRadio.org) or on popular podcatchers including iTunes, Spotify and Google. BackStory publishes every week at noon and is available for free.
About BackStory: BackStory brings historical perspective to the America of today. Each week, U.S. historians Ed Ayers, Brian Balogh, Joanne Freeman and Nathan Connolly look at current issues and trace them back to their roots in American history. From the days of the Early Republic to the 21st century, BackStory reveals the connections (and disconnections) between the past and the present. BackStory makes history accessible for listeners – not only in the United States, but around the globe.
BackStory is available for free on Apple Podcasts, Google Play, Spotify, Stitcher and other apps. Get new episodes delivered directly to your device by following BackStory on your preferred podcatcher. New to podcasts? Just search for BackStory (and look for the blue logo in the "Society and Culture" category) and then click "Subscribe."
About Virginia Humanities: Virginia Humanities connects people and ideas to explore the human experience and inspire cultural engagement. As the state humanities council, Virginia Humanities reaches millions in its estimated annual audience through festivals, grants, fellowships, digital initiatives, teacher institutes, radio programs, podcasts, apprenticeships, and school programs. Headquartered at the University of Virginia in Charlottesville, Virginia Humanities endeavors to serve Virginians in every corner of the Commonwealth. To learn more visit http://www.VirginiaHumanities.org