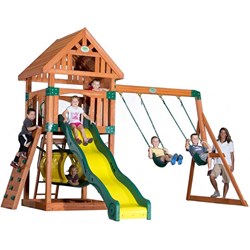 West Des Moines, Iowa (PRWEB) January 07, 2014
Totally Swing Sets, an online leader in swing sets and playgrounds for sale, is now offering wooden swing sets and playgrounds from Backyard Odyssey. There are ten swing set models currently available for sale. Backyard Odyssey is a playset and swing set company that produces high quality children's playgrounds. They are at the top of their industry and TotallySwingSets.com is proud to now offer some of their products for sale.
TotallySwingSets.com is a unique website that carries an incredible selection of swing sets online. They are also a leader in their industry and offer free shipping on all orders over $100. They have an industry leading 110% price match guarantee, where they will match any competitors' prices and give their customers 10% back.
Some of the Backyard Odyssey models being offered by TotallySwingSets.com include the Backyard Odyssey Compass, Backyard Odyssey Trek, and their flagship model, the Backyard Odyssey Safari. The Safari is a huge swing set and playground combination which offers two towers, five slides, and four attached swings. The Safari is a child's dream playscape and will definitely be the envy of every boy and girl in the neighborhood. All of the play scapes made by Backyard Odyssey are constructed of 100% cedar for durability and to ensure they will be enjoyed for years to come.
TotallySwingSets.com currently provides an incredible selection of swing sets and playgrounds. With the new addition of Backyard Odyssey playscapes, they are setting the standard in their industry for offering the top of the line and standing behind the products they offer.
To learn more about Totally Swing Sets and the new Backyard Odyssey products they are now carrying, you can visit http://www.TotallySwingSets.com. They can also be reached by telephone at 1-800-866-3077. The corporate offices are located at 2800 University Ave. Suite 207, in West Des Moines, IA 50266. For all other inquiries, please email Jereme Thomas at info(at)totallyswingsets(dot)com.