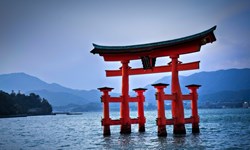 We hope our promotion on this Authentic Japan tour will encourage culture-seeking travelers to embrace this opportunity to discover the Land of the Rising Sun for less without compromising on the unique experiences on offer
Bangkok, Thailand (PRWEB) September 17, 2013
The customizable fourteen-day, thirteen-night trip begins in the Japanese capital Tokyo where travelers will spend their first two nights. During their time in the vibrant city, travelers can discover Tokyo's most famous shrine dedicated to the late Emperor Meiji, as well as take a trip outside the bright lights to Nikko National Park, home to the Toshogu Shrine complex and a UNESCO World Heritage Site.
From Tokyo the tour moves by shinkansen (the 'bullet train') to visit the Kiso Valley region and the quaint town of Tsumago. Once a major stopover on the trade route from Tokyo to Kyoto, Tsumago is a wonderfully preserved town where travelers can stay in a traditional Japanese minshuku – a delightful family-run accommodation set in beautiful gardens with private onsen.
While in Tsumago, travelers can enjoy hiking the old 8km-long Magome trail before boarding the train to Takayama where they can enjoy more authentic accommodation with a stay in a ryokan, a slightly more upscale version of a minshuku. Takayama's delights include the charming Hida No Sato Folk Village which contains numerous traditional buildings from the Hida region.
Travelers on the tailored Japan tour then move through Kanazawa, Hiroshima and Kotohira on their way to Kyoto, taking in numerous authentic experiences and soaking up the unchanged landscapes and fascinating culture of the regions.
The final four days will be shared between Kyoto and Nara, two enthralling areas that offer no fewer than 17 UNESCO World Heritage Sites and myriad opportunities to discover an authentic version of Japan steeped in history and tradition.
This Japan tour is currently available with a discount of 15% when taken before 31 December 2013.
"Japan is a fascinating blend of old, new and futuristic, but many travelers think of the ancient eras when they picture their perfect Japan vacation," said Backyard Travel's General Manager Maeve Nolan. "We hope our promotion on this Authentic Japan tour will encourage culture-seeking travelers to embrace this opportunity to discover the Land of the Rising Sun for less without compromising on the unique experiences on offer."
About Backyard Travel
Bangkok based Backyard Travel is an online travel company specializing in tailor-made tours to Vietnam, Thailand, Cambodia, Laos, Myanmar, Indonesia, Japan and China. For more information about Backyard Travel, visit http://www.backyardtravel.com or Facebook page http://www.facebook.com/BackyardTravel.