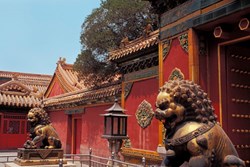 We hope this attraction-packed tour will enable visitors to see and understand not just the allures themselves, but also the fascinating local culture and community that surrounds them
Bangkok, Thailand (PRWEB) September 03, 2013
The fully customizable four-day, three-night trip around China's capital allows the opportunity for travelers to visit the 'big three' of Beijing: The Great Wall of China, Summer Palace and Forbidden
City led by a local Backyard Travel guide to ensure none of the insider-experiences are missed.
Starting at the Temple of Heaven Park, travelers can gain a greater understanding of Chinese religion at many of the various spiritual sites before spending the second day of the tour visiting the Forbidden City, Behai Lake and the Drum Tower.
On day three, travelers are given the chance to visit the most iconic man-made structure in Asia, if not the world: the Great Wall of China. Travelers will have the unique opportunity to enjoy a moment of relaxation atop the vast 6,000-km long wall at a lesser frequented section. They will then make a stop at the Summer Palace on the way back to Beijing to investigate the delicate gardens and beautiful buildings.
This Beijing city tour is currently available with a discount of 15% when taken before 31 October 2013.
"Beijing is a captivating city that offers an abundance of stellar sights, sounds and smells for all types of traveler," said Backyard Travel's General Manager Maeve Nolan. "We hope this attraction-packed tour will enable visitors to see and understand not just the allures themselves, but also the fascinating local culture and community that surrounds them."
About Backyard Travel
Bangkok-based Backyard Travel is an online travel company specializing in tailor-made tours to Vietnam, Thailand, Cambodia, Laos, Myanmar, Indonesia, Japan and China. For more information about Backyard Travel, visit http://www.backyardtravel.com or Facebook page http://www.facebook.com/BackyardTravel.