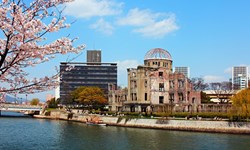 With this educational tour travelers can discover a lesser-seen version of Japan that reinvented itself after the devastation, which also contains some sublime cultural sites such as the iconic Itsukushima Island, home to The Floating Torii Gate
Bangkok, Thailand (PRWEB) October 10, 2013
The three-day, two-night Japan tour takes travelers to enjoy a scenic break in Hiroshima, a region of Japan that's suffered great adversity in modern times, and had the misfortune of being the target of the first atomic bomb during World War II.
From devastation, the city rebuilt itself with museums and monuments to immortalize those that lost their lives, and Hiroshima now stands as an iconic reminder of not just the trajedy of the event, but also as a tribute to how humanity can overcome adversity.
While many may not look beyond Hiroshima's unfortunate past, the city offers an abundance of attractions that reach beyond the fascinating museums. During their tour, travelers will have the opportunity to see both sides of Hiroshima – one that stands in memory of the tragic event and a region of beauty that photographers yearn to capture.
The first day of the tour makes trips around some of the best museums in town, stopping at The Hiroshima City Museum of Contemporary Art which features artists such as Henry Moore and Andy Warhol.
Next is The Prefectural Art Museum, which features a collection of regional arts and crafts, while the Hiroshima Museum of Art features Japanese artists inspired by Western art. Finally, travelers can visit the Hiroshima City Manga Library to see a uniquely Japanese comic book museum.
On the second day of the fully customizable tour, travelers will first visit the Hiroshima Peace Memorial Park in central Hiroshima before hopping on the ferry to spend the day on Itsukushima Island, known by locals as 'Miyajima'.
While on the idyllic island, travelers can spend time visiting the pier-like shrine, which dates back to the 6th century. The Itsukushima Shrine is also listed as one of Japan's National Treasures and one of the 'Three Views of Japan'. The main attraction of the shrine is undoubtably the Floating Torii Gate which is arguably one of Japan's most photographed scenes.
Travelers may also take a trek up to a higher vantage point with the option to hike to the peak of Mt. Misen – or take the more leisurely choice of riding the cable car to the top.
"Although Hiroshima is perhaps most famous for it's sad history, the city that thrives today offers more than travelers might originally expect," said Backyard Travel's General Manager Maeve Nolan. "With this educational tour travelers can discover a lesser-seen version of Japan that reinvented itself after the devastation, which also contains some sublime cultural sites such as the iconic Itsukushima Island, home to The Floating Torii Gate."
About Backyard Travel
Bangkok based Backyard Travel is an online travel company specializing in tailor-made tours to Vietnam, Thailand, Cambodia, Laos, Myanmar, Indonesia, Japan and China. For more information about Backyard Travel, visit http://www.backyardtravel.com or Facebook page http://www.facebook.com/BackyardTravel.