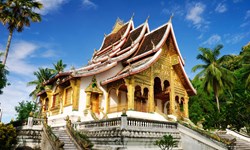 The tour will hopefully not only entertain and enchant, but allow travelers to better understand the charming nation through art inspired by the beauty of local landscapes and captivating culture of its people
Bangkok, Thailand (PRWEB) September 05, 2013
The four-day, three-night Laos tour begins with a visit to scale Mount Phousi and observe the inspirational natural beauty of the surrounding area at sunset before visiting a local hill tribe marketplace.
The following day invites travelers to explore the Royal Palace, which now exists as the country's National Museum, before taking a stroll down one of the prettiest lanes of Luang Prabang to the Saaifone Contemporary Gallery to discover the region through the eyes of Thep Thavonsouk, a Lao-Canadian artist.
Travelers will then explore the region's decadent temples, starting with the spectacular Wat Mai and Wat Sensoukarahm before visiting the Caruso Lao workshop which produces hand-made silks and wood. The nearby Wat Xieng Thong, the most famous temple in Luang Prabang, is the last stop before lunch.
The afternoon of day two begins at Big Tree Café which features an exhibition by Adri Berger, a world-famous photographer and film maker. The enchanting tour then moves to du Pavillion du Jade, French colonial building hosting a collection by Patrice Bleton, a connoisseur of Asian art and antiques.
The Traditional Art & Technology Center is a place where travelers can learn more about the indigenous hill tribes of Laos and travelers on the thought-provoking tour and will make a stop here before enjoying the sunset from the nearby Project Space roof terrace.
Day three provides a chance for travelers to take a river cruise to see the famous Pak Ou Caves packed with hundreds of magnificent Buddha effigies. Along the way travelers will have the opportunity to observe natural life on the Mekong and how important the river is to the region.
"This artistically focused Laos tour provides a chance for travelers to experience Luang Prabang through the eyes of local artists and artisans – people who connect with the region," said Backyard Travel's General Manager Maeve Nolan. "The tour will hopefully not only entertain and enchant, but allow travelers to better understand the charming nation through art inspired by the beauty of local landscapes and captivating culture of its people."
About Backyard Travel
Bangkok based Backyard Travel is an online travel company specializing in tailor-made tours to Vietnam, Thailand, Cambodia, Laos, Myanmar, Indonesia, Japan and China. For more information about Backyard Travel, visit http://www.backyardtravel.com or Facebook page http://www.facebook.com/BackyardTravel.