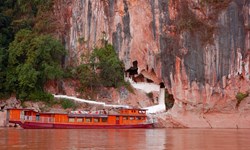 We hope this 10% discount on this wonderful tour helps more people fall head over heels in love with Laos.
Bangkok, Thailand (PRWEB) October 22, 2013
Travelers who book and take the inspirational trip before the 31 December 2013 can enjoy a 10% discount and enjoy the amazing journey for less.
The five-day, four-night Laos tour begins at the 'Stay Another Day' exhibition which highlights Laos' dedication to providing sustainable tourism. Travelers then have the chance to scale the magnificent Mount Phousi and observe the natural beauty of the surrounding area as the sun sets before visiting a local hill tribe market.
The second day of the fully customizable tour invites travelers to explore the region's temples with a guided electric bike ride tour around the city after exploring the Royal Palace which now exists as the country's National Museum. Travelers will then cycle to see Wat Mai, Wat Sensoukarahm and Wat Xieng Thong before visiting the Traditional Art & Technology Center where they will be able to learn more about Laos' indigenous hill tribes.
The following day offers the chance for travelers to take a river cruise to see the famous Pak Ou Caves packed with hundreds of magnificent Buddha effigies. Along the way travelers will have the opportunity to observe life on the majestic Mekong and learn how important the river is to the region.
The last day of the Luang Prabang tour begins at dawn with the chance to see the fascinating early-morning alms collection procession as locals rise to pay tribute to a long line of local monks. Travelers are then guided to the spectacular Kuang Si Waterfalls where they can take a swim in one of the site's many pools. The evening before departure, they will then have the chance to take part in a unique Baci ceremony, to bless their onward adventure with good fortune.
"There's so many reasons to fall in love with Laos, and Luang Prabang especially has a considerably romantic allure," said Backyard Travel's General Manager Maeve Nolan. "We hope this 10% discount on this wonderful tour helps more people fall head over heels in love with Laos."
About Backyard Travel
Bangkok-based Backyard Travel is an online travel company specializing in tailor-made tours to Vietnam, Thailand, Cambodia, Laos, Myanmar, Indonesia, Japan and China. For more information about Backyard Travel, click here or Facebook page http://www.facebook.com/BackyardTravel.