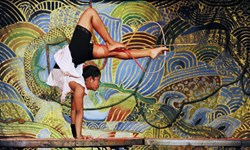 The show has recently attracted the attention of the media as one of the key Cambodian experiences and we're thrilled to be one of the only tour companies to offer this exclusive journey
Bangkok, Thailand (PRWEB) September 24, 2013
The four-day, three-night tour first takes travelers from Siem Reap to Battambang, a place known as the 'arts capital' of Cambodia where the circus was founded by the Phare Ponleu Selpak Association (PPSA), a non-profit NGO established by eight refugees from Anchanh Village.
Staying in Battambang overnight, travelers will have the chance to visit various sites around the local vicinity such as the Sammaki Gallery, Battambang Museum and Mak Maek led by a local Backyard Travel guide who'll share their insider information. Travelers can also experience a performance at the Phare Ponleu Selpak School of Music, Visual and Performing Arts, to see the education project in action.
The following morning, the tour takes travelers on a scenic boat journey back to Siem Reap visiting the majestic Tonle Sap Lake along the way.
Upon arrival in Siem Reap travelers will be taken to the circus ahead of the start of the show, allowing a behind the scenes experience to see the talented troupe warm up. A pre-show dinner will then be taken at the Phare Café before travelers take their place in the best seats of the house just before the curtain comes up.
The hour-long show offers something for people of all ages, with traditional and contemporary Cambodian music setting the scene for theatre, dance, contortion and acrobatics to tell a dramatic story.
After the show travelers can mingle with the stars of the show and enjoy unique photo opportunities before being escorted back to their hotel.
"We are delighted to reveal this one-of-a-kind tour, which we hope will allow travelers the chance to enjoy a modern look at Cambodian culture through a unique medium," said Backyard Travel's General Manager Maeve Nolan. "The show has recently attracted the attention of the media as one of the key Cambodian experiences and we're thrilled to be one of the only tour companies to offer this exclusive journey."
About Backyard Travel
Bangkok based Backyard Travel is an online travel company specializing in tailor-made tours to Vietnam, Thailand, Cambodia, Laos, Myanmar, Indonesia, Japan and China. For more information about Backyard Travel, visit http://www.backyardtravel.com or Facebook page http://www.facebook.com/BackyardTravel