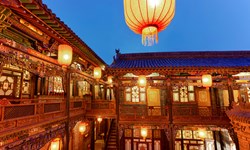 We truly hope this limited time offer will encourage more travelers to visit and experience the charms of the region with this insider investigation of the finer sites and sounds on Shanxi
Bangkok, Thailand (PRWEB) September 10, 2013
The 'UNESCO Wonders of Shanxi China: Datong and Pingyao' tour takes travelers on a four-day, three-night journey through the sites, sounds and spectacular scenery of China's Shanxi Province.
As the tour name suggests, travelers will be guided around some of the fascinating UNESCO sites of Datong and Pingyao such as the Yungang Grottoes, considered to be a symbol of the 'golden age' of Buddhist cave art in China and the paved alleyways and traditional courtyard-style homes outfitted with iconic red lanterns of Pingyao.
Led by a local Backyard Travel guide to ensure none of the insider-experiences are missed, travelers will learn about the region's fascinating history while discovering the charm and beauty of the Shanxi.
The culture-packed China tour is now available with a discount of 15% when taken before 31 October 2013.
"Pingyao and Datong are two destinations I personally adore and represent the version of ancient China I always had in my own imagination," said Backyard Travel's General Manager Maeve Nolan. "We truly hope this limited time offer will encourage more travelers to visit and experience the charms of the region with this insider investigation of the finer sites and sounds on Shanxi."
About Backyard Travel
Bangkok based Backyard Travel is an online travel company specializing in tailor-made tours to Vietnam, Thailand, Cambodia, Laos, Myanmar, Indonesia, Japan and China. For more information about Backyard Travel, visit http://www.backyardtravel.com or Facebook page http://www.facebook.com/BackyardTravel.