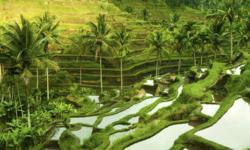 Ubud is commonly known as the cultural center of Bali and is a great place to investigate the unique arts scene developing in Indonesia
Bangkok, Thailand (PRWEB) July 09, 2013
The four-day, three-night tour includes an abundance of insider experiences including the chance for travelers to get their hands dirty by helping out a local farmer in the village of Tunjunk, where they can learn the tricks of either harvesting or planting rice in one of the picturesque paddy fields that Bali is famous for.
While at the farm, travelers can also see local village life in action, including seeing the skillful way coconuts are collected and how cassava is boiled, and join locals for lunch at a nearby farm.
Travelers will learn about the local fruits and vegetables at a fresh market and then learn the secrets of Indonesian cuisine with a cooking class in a traditional Balinese kitchen with an expert local chef. Travelers can then investigate the local growing art scene, taking a look at the classic and contemporary galleries and museum of Bali, such as The Blanco Renaissance Museum, Agung Rai Museum of Art and the Rudana Museum.
There's also the opportunity to be engrossed in Indonesian culture with a visit to see a traditional Balinese dance performance.
The 'Ubud in Style' tour can be taken with a 10% discount from now until the 31 October 2013.
"Ubud is commonly known as the cultural center of Bali and is a great place to investigate the unique arts scene developing in Indonesia," said Backyard Travel's General Manager Maeve Nolan. "We hope that our special discount on this captivating tour we will encourage more vistitors to the idyllic isle to experience not just the paradise beaches of Bali, but to take time to appreciate the fascinating culture too."
About Backyard Travel
Bangkok based Backyard Travel is an online travel company specializing in tailor-made tours to Vietnam, Thailand, Cambodia, Laos, Myanmar, Indonesia, Japan and China. For more information about Backyard Travel, visit http://www.backyardtravel.com or Facebook page http://www.facebook.com/BackyardTravel.