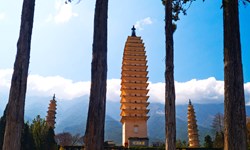 China is always a popular destination for travelers but many stick to the tried and tested trails that include the country's main attractions, often missing out on the smaller rural areas like Dali, Shaxi and Luijiang
Bangkok, Thailand (PRWEB) August 29, 2013
The fully customizable five-day, four-night 'Explore Ancient Yunnan: Dali, Shaxi & Lijiang' tour takes travelers deep into China's backyard to explore the ancient cities of Yunnan in Southwest China. This eye-catching area is one of the most authentic and beautiful regions of the vast nation and offers myriad delights for travelers to see and do.
The tour begins in Dali, home to the Bai hill tribes, where the tailor-made tour gives travelers the chance to visit the idyllic Erhai Lake in the quaint town of Shuanglang away from the crowds.
From Dali the bespoke tour moves to Shaxi, a traveler's oasis that was once a major stop on the Tea Horse Road. Shibaoshan is the next stop, where travelers will discover the iconic Stone Treasure Mountain – a striking black rock that many locals believe enhances fertility when touched.
Travelers will also go to Luijiang to see the majestic Black Dragon Pond with panoramic vistas of the magnificent Jade Dragon Mountain led by a local Backyard Travel guide to ensure none of the insider-experiences are missed.
The unforgettable tour is now available with a discount of 15% when taken before 31 October 2013.
"China is always a popular destination for travelers but many stick to the tried and tested trails that include the country's main attractions, often missing out on the smaller rural areas like Dali, Shaxi and Luijiang," said Backyard Travel's General Manager Maeve Nolan. "We hope this promotion will enable more travelers to enjoy the picturesque delights that Yunnan has to offer."
About Backyard Travel
Bangkok-based Backyard Travel is an online travel company specializing in tailor-made tours to Vietnam, Thailand, Cambodia, Laos, Myanmar, Indonesia, Japan and China. For more information about Backyard Travel, visit http://www.backyardtravel.com or Facebook page http://www.facebook.com/BackyardTravel.