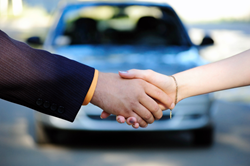 Drivers only need to make $350 per week or more to get approved!
Seattle, WA (PRWEB) April 26, 2014
Complete Auto Loans is making it easier for people with poor credit history to get approved by a trusted lender in their local area. The popular lending resource for people who've been turned down in the past for a car loan is now able to get them approved for a new or used car loan up to $35,000.
Here's a link to their secure lending form:
https://completeautoloans.com/application-form/ - 60 second application
Once submitted, applicants will be matched to a local lender who has been pre-screened by Complete Auto Loans for quality of service and low interest rate loans.
Checking One's Credit Score
Complete Auto Loans encourages people to check their credit score after filling out their online lending application. One of the best ways one can improve their credit score is through buying a car and then by tracking their credit history. This is why Complete Auto Loans provides applicants with an easy to use Credit Score tool that keeps users up to date on their latest score from all three of the top sources in the nation. A better credit score can save applicants thousands on their next auto loan or home loan. It just takes a minute to apply and people can literally save thousands on their next loan by working on improving their credit score.
Learn More about Complete Auto Loans
CAL is a Seattle bad credit auto loan company that is fully dedicated to help its customers acquire national car and auto financing. They design and develop customized no credit auto and car financing, bad and good credit auto and car loans. Voted the best for "Quality Customer Service; Best National Auto Loans Service" by thousands of people, their finance experts focus in providing its customers information and various tools available for different auto loan offers, help them to choose the best that fits their budget as well as the related eligibility guidelines in detail.