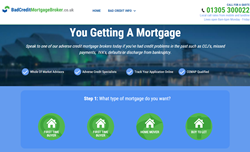 Mortgages for bad credit are in huge demand.
Bristol, UK (PRWEB UK) 17 September 2015
A new UK website has launched to help people with credit problems get a mortgage, quickly and easily.
http://www.BadCreditMortgageBroker.co.uk provides no-obligation mortgage quotes to discharged bankrupts, aswell as to consumers with less severe credit issues, like missed payments, CCJ's (county court judgements), Individual Voluntary Arrangements (IVA's) and so on.
The site features a fast 60 second application form, gathering in essential information about the visitor's credit history, borrowing requirements and contact info.
A new explanatory guide to credit score has also been produced.
The Essential Guide To Credit Score explains why credit score is so important, why credit reference agencies and lenders rate borrowers differently, and gives tips and strategies for improving a person's credit rating.
According to Graham Cox, founder of the company behind the new site XOC Marketing Ltd, there's a huge amount of misinformation regarding credit scoring, and how a persons credit history affects their ability to get a mortgage.
"Many people think that the score they see in their credit report is the sole criteria mortgage lenders base their decision making on. When in fact, it's just one factor of many."
"Eligibility criteria amongst lenders varies enormously. For example, does the borrower fit the mortgage providers lending profile? Are they a previous or existing customer? How is the lenders existing loan book weighted? And what is their attitude to risk?"
Graham continues, "Many people in the UK are still feeling the effects of austerity since the financial crisis. Subsequently, mortgages for bad credit are in huge demand. Our aim with this guide is to educate consumers in a jargon-free way about how they can improve their credit score and increase their chances of getting a mortgage."
"The guide explains what to check for on a credit report, and how to go about removing or amending incorrect information. It can be surprising just how much information the credit reference agencies hold."
Acting as an introducer, the website connects consumers across the UK with specialist bad credit mortgage brokers whom have access to adverse credit mortgage lenders, as well as more mainstream lenders.
Mr Cox explains, "The chances of getting a mortgage deal often improve dramatically if the client's credit event, such as discharge from bankruptcy, or payment default, occurred more than 2 years ago. But the brokers can sometimes source deals where the credit event was more recent."
The company has invested heavily in the site's online application form, making it possible to submit a basic application in less than 60 seconds. But a local rate telephone number is also available for visitors who prefer a more human touch.