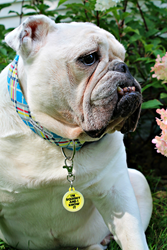 Bad Tags is a fun way to let your pet's personality shine!
Ellendale, Minnesota (PRWEB) August 30, 2016
Bad Tags (http://www.buybadtags.com) is announcing the September 2 launch of its Campfire Collection, an expansion of the popular line of cute and funny dog tags. These witty dog ID tags have a fresh autumn spin and are perfect for fur moms who enjoy accessorizing their babies according to the season and want their pup's unique personality to shine through.
The theme of the new autumn line is, "Snuggle up to your pup with the Campfire Collection." Sayings like, "Keep Drooling I'm Taken" and "Not Your Basic Bitch," have dogs with a bold personality covered. For the more demure pup, there is a selection of cute woodland creature tags featuring owls, foxes and hedgehogs. Halloween themed tags will also be available. All tags are enhanced with seasonally appropriate colorways and patterns like plaid, chevron and Aztec.
Bad Tags start at $14.00 and include custom features such as 15 tag color options and the option to personalize the backside of the tag with contact information.
Bad Tags founder Cristen Breuer says, "Bad Tags is a fun way to let your pet's personality shine and when customers opt for a personalized backside, will keep them safe should they ever leave your side. Our tags are cute, and some are cheeky, but they always bring a laugh and smile wherever they go. We're also super proud of our 3,500 five star reviews."
Cristen launched Bad Tags in April 2014, after she couldn't find a pet tag that matched her own dogs' personalities. She says, "The cute hand-stamped name tags available didn't do justice to my neurotic bunch. After creating a few tags with phrases that were a little "fresh," my husband commented they were "so bad." I ran with it and named the business Bad Tags."
Bad Tags was the first pet tag company to feature bold, personality driven phrases that a dog would want to say, such as "I Has Toots in my Butt," "Put Treats in My Mouf," and "Have You Seen My Balls?" Today, its collections include Zombie tags, special needs tags and more. Cristen says customers love the wide selection of available tag sayings. When they can't find a tag to fit their dog's personality, they can create their own one of a kind tag. A Just for Kitties line is also available.
The personality-driven tags were so successful that just one year after launch, Cristin was able to leave her professional career as a registered nurse to run the company full time.
Cristen is also the owner of Mootugs, upcycled cow milking tube dog toys, launched in 2012.
Bad Tags has been featured in Modern Dog Magazine and Student Loan Hero blog. Bad Tags are sold exclusively online at buybadtags.com and badtags.etsy.com. The company is a proud supporter of the French Bulldog Rescue Network and regularly donates tags for fundraising events with other rescues across the United States. Bad Tags has donated over $20,000 to rescue 2012.
For more information, reporters can contact Cristen Breuer through the company's website. Become a fan on Facebook, Instagram and Twitter.
ABOUT BAD TAGS
Bad Tags (http://www.buybadtags.com) has been creating outrageous pet ID tags since 2014. These cheeky pet tags are available in a rainbow of colors. Made in Minnesota, the company ships worldwide.