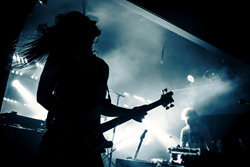 Excited with the way the 1073 captured analog sources on the Max Payne 3 OST, they continued to use it for all direct signal input on Death Magic, while also making ample use of it for vocals and on drum overheads.
North Hollywood, Calif. (PRWEB) August 04, 2015
For Los Angeles-based band HEALTH, finding a unique sound that grabbed listeners' attention came naturally. Beginning with their 2007 self-titled debut, they blended elements of noise, rock, and electronica seamlessly in songs that are at once both infectious and deliciously abrasive. But in the six years between 2009's LP Get Color and their upcoming release Death Magic, the band perceived that the sound of music around them had changed by leaps and bounds. HEALTH has since turned to a new workflow focused on direct guitar recording through BAE Audio 1073 preamplifiers, giving their analog instruments the added punch they need to go toe to toe with HEALTH's bevy of digital sounds.
"We were hearing how music production had really changed where you've got these pop-star songs that are hitting harder than a heavy metal record because of the production," says HEALTH band member John Famiglietti, "and we're saying to ourselves, hey, we make heavy music and there's no reason our stuff shouldn't be hitting harder than teeny bop music."
A New Approach
Capturing HEALTH's musical vision in the studio has always been a challenge for the band. "When we did our first record, we were recording ourselves for free in a place we used to perform downtown called The Smell. But it had this cavernous natural reverb and we had to wait until 4 a.m. because the place next door would be blasting reggaeton until then," Famiglietti recalls. "Then on our second record we tried to work in a recording studio but had a bad experience."
It was during their work on the soundtrack for video game Max Payne 3 that they added the BAE Audio 1073 to their collection at their rehearsal and recording space. "We had read a lot of recording magazines so we knew about vintage gear and the sound of the classic 1073, and everyone we talked to was like 'You should get the BAE, it's like the original but better'." The band picked up two BAE Audio 1073s and started recording their analog instruments, including guitars, directly into it, making less and less use of their guitar amplifiers. "It sounded great and it was really convenient," Famiglietti explains. "Working on the soundtrack was a little frantic and we had to turn things around sometimes overnight, so being able to just plug in and get a great sound right away was huge."
Getting It Right
When it came time to work on their next proper LP, HEALTH was determined to go beyond anything they had done before. "Our attitude for this record was 'We have to get it right this time'," Famiglietti says. Excited with the way the 1073 captured analog sources on the Max Payne 3 OST, they continued to use it for all direct signal input on Death Magic, while also making ample use of it for vocals and on drum overheads. "We've got a crazy number of pedals on our signal at all times making all kinds of wacky sounds, and the 1073 just gives it all that realness," Famiglietti says, citing both its crisp clarity and a subtle warmth in the lower midrange. "We know the digital stuff we do is going to be slamming out of the box, and the 1073 allows us to get the analog signals just as punchy and clear."
With the release of Death Magic on August 7th, HEALTH is getting ready to hit the road in support of an effort they feel is their strongest to date. "Our challenge on this record was updating our sound for the times but doing so in a way that's true to who we are as a band," Famiglietti reflects, noting that they could not have succeed to that end without the right tools. "Going direct into the 1073 I'm just getting a better sound than anything I've used before," he adds. "It's a must."
For more information on the BAE 1073, please visit http://www.baeaudio.com/products/1073