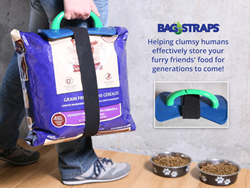 I love animals and I'm a do-it-yourself guy, so I'm confident that this is going to make storage and transport easier on so many people.
Charlotte, NC (PRWEB) March 10, 2014
Bag-Straps™, the device that offers a no-clip sealing solution to keep the contents of large household bags fresh and easy to transport, makes its Kickstarter debut today, March 10. Pet owners, landscapers and anyone tired of unmanageable heavy-duty bags can now go on Kickstarter to pre-order a brand new solution for carrying and sealing these items.
"This is a huge day for us," said Bag-Straps™ creator Jason Shepherd. "We've spent so much time getting this product ready, and its going to be awesome to how much easier Bag-Straps™ makes people's lives. I love animals and I'm a do-it-yourself guy, so I'm confident that this is going to make storage and transport easier on so many people."
Composed of a sturdy handle and a long hook and loop fastener, Shepherd's device is quick and simple to use. After rolling the top of a bag down tightly, the plastic handle is placed securely on top. The fastener strap goes around the bag lengthwise, slips through the perforation in the easy-slide handle for optimum leverage, and secures tightly to itself on the other side. Freshness is locked in, and the bag can be carried easily without the risk of spilling.
Shepherd, inspired by his own experiences as a pet owner, decided a better solution was necessary for storing and transporting food. He found himself on the go with his two dogs, consistently spending too much time grappling with the annoyances of food transport. Feed bags spill easily because they aren't resealable, and not only are they cumbersome, but plastic bins do not keep food as fresh as the original bags in which it is packaged.
After spending time researching, Shepherd found that companies actually spend millions of dollars perfecting the technology of their bags to ensure the ultimate degree of freshness. Thus, he decided that the necessary solution would be to work with this technology, creating a convenient sealing and carrying solution that would compliment and optimize the bag's freshness.
Ultimately, Bag-Straps™ offers a top-notch solution for many household products, including things like fertilizer and charcoal that keep longer when sealed. For landscapers, pet-owners, or really anyone with a need to make the contents of large bags more manageable, Bag-Straps™ is a practical solution.
To cover the first round of production and start-up costs for his company, Shepherd is introducing his Bag-Straps™ to Kickstarter today with a goal of $40,000 in funding. The product can now be pre-ordered for $15, and those who order can expect to receive their Bag-Straps™ by August 15, 2014.
Visit http://bit.ly/Bag-StrapsKS to back the campaign. Also like Bag-Straps™ on Facebook and follow them on Twitter @Bag_Straps to stay up to date with the Kickstarter project and any other new information about Bag-Straps™.
ABOUT BAG-STRAPS™
Bag-Straps™ are a no-clip solution to closing large bags created in 2013 by Jason Shepherd. Inspired by a need to seal and transport pet food effectively, Shepherd created Bag-Straps™ as a solution to the problem. He then realized that his device had multiple uses and could be effective for all kinds of large bags, including charcoal, lawn products and many others. Visit http://www.bag-straps.com for more information about Bag-Straps™.