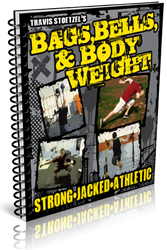 Want to start building more rugged muscle, explosive power and turn yourself into a ruthless machine?
Seattle WA (PRWEB) May 06, 2014
Recent movie releases featuring superheroes like Spider-Man, Thor, and Captain America have changed the way society perceives strength. Nowadays people want to have lean muscle and look ripped instead of having bulky muscles which make their movement slow and awkward.
Many people have spent hours in the gym trying to get stronger and fitter but have ended up unsatisfied and frustrated with their body that just keeps bulking up and doesn't necessarily get stronger.
People are now looking for ways to get strength and agility without ending up looking like a puffed up cloud or spending a lot of money on a personal trainer or gym membership.
The Bags, Bells and Bodyweight training system by Travis Stoetzel is a tried and tested program designed to help people attain a super hero like physique. He doesn't promise unrealistic things like laser beam eyes or x-ray vision but instead focuses on teaching people how to become strong, ripped and athletic.
The Bags, Bells and Bodyweight system combines sandbag and kettle bell training together with advanced bodyweight movements to gain mobility and athleticism and strength.
Travis said he was sick and tired of the same old routines. All that appeared to be happening to him was stripping himself of his athleticism and bulking himself up to look like a huge body builder. He couldn't think of anyone he knew that wanted to be huge and slow like most professional body builders.
Travis says "Nothing against body builders or anything like that, but I would much rather look like a MMA fighter, Olympic sprinter, or a ripped up NFL football player."
The Bags, Bells and Bodyweight training system is an E-Book so people can get it instantly along with a long list of other complimentary E-Books Travis has written – for no extra cost - including:

The Bodyweight Training Manual
The Sandbag Training Manual
The Kettle bell Training Manual
Dumbbell Domination (for those who don't have kettle bells)
Paleo Ripped Eating Guide
The 7 Supplements for Strength
Strength Coach Audio Series
The Ultimate DIY Sandbag Creation Manual
Travis' system has transformed MMA fighters and boxers, wrestling champions, a former marine, a lawyer and 'everyday Joe' kind of people who all had the desire to be faster, stronger and leaner. Testimonials from these people can be read here.
The Bells, Bags and Bodyweight training system is guaranteed to get results in 10 weeks or Travis will give a full refund with no questions asked and zero hassles.
Carmen Mudie from the vinamy.com site says this system "is for those who want to be strong, highly conditioned and explosively athletic."
To read the full review visit the Vinamy website.
To learn more about The Bags, Bells and Bodyweight training program, get direct access here.