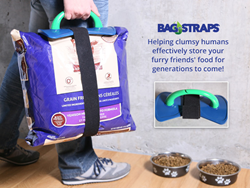 Bag-Straps™ keep the food fresh all the time, and when you're ready to pick it up and go, there's no complicated process of changing containers.
Charlotte, NC (PRWEB) March 04, 2014
Transporting and keeping pet food fresh can be a consistent struggle for any pet owner, especially for those who are constantly on the go with their furry friends. Inspired by his own experience as a pet owner, Bag-Straps™ creator Jason Shepherd developed a solution that allows people to carry and seal large bags of pet food conveniently and simply. His device can even be used for carrying other materials, such as grass seed, charcoal and any other large bags. Bag-Straps™ will launch on Kickstarter for pre-orders on March 10.
"I was constantly on the go with my dogs and struggling with a way to transport their food effectively," said Shepherd. "Contrary to popular thought, large plastic containers don't keep food as fresh as the bags specially designed by manufacturers, and they are a pain to carry. Bag-Straps™ keep the food fresh all the time, and when you're ready to pick it up and go, there's no complicated process of changing containers."
Made of a sturdy proprietary handle and a velcro strap that attaches to itself, Bag-Straps™ are incredibly simple to use. Just set the bag on top of the strap, roll down the top of your bag tightly, place the handle on top, slip the strap through the slit in the top of the proprietary handle, and secure the strap to itself. The engineering of the handle is what makes Bag-Straps™ so easy to use – instead of having to reach through the handle and pull the velcro strap through, users simply slip the velcro through the easy-slip slit in the handle for optimum leverage.
While the product was designed with pet food in mind, Jason has since seen many opportunities for outdoor use. Carrying things like bags of charcoal and grass seed can be cumbersome and annoying, and keeping them sealed from the elements while they stay in the garage or shed can be a challenge as well. Bag-Straps™ make storing and carrying these materials easier, and they are great for landscapers, gardeners or outdoor enthusiasts.
Shepherd will bring his Bag-Straps™ to Kickstarter for pre-order on March 10, in hopes of raising $40,000 to cover the first round of production and start-up costs for his company. Pricing for Bag-Straps™ will start out at $15. Those who pre-order can expect to receive their orders by August 15th.
Leading up to the Kickstarter campaign, those interested can visit the Bag-Straps™ Facebook and follow them on Twitter @Bag_Straps to stay up to date with the latest news about the product.
ABOUT BAG-STRAPS™
Bag-Straps™ are a no-clip solution to closing large bags created in 2013 by Jason Shepherd. Inspired by a need to seal and transport pet food effectively, Shepherd created Bag-Straps™ as a solution to the problem. He then realized that his device had multiple uses and could be effective for all kinds of large bags, including charcoal, lawn products and many others.