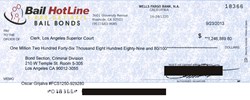 Most of our clients are hard working people who made a mistake and need to be released to make it to work next day. Fewer than 10% of our clients fail to appear in court, and over half of those make later appearances and close their cases. - Fonseca
Los Angeles, CA (PRWEB) September 26, 2013
After an exhaustive and unfruitful search for a defendant, Bail Hotline Bail Bonds has been ordered to pay Los Angeles County $1,240,000. When a Bail Bond company posts a bond for a defendant, that defendant is released into the custody of the agency—they take responsibility for presenting the defendant in court to face charges. "This is the largest forfeiture we have had to pay," explained Daniel McGuire, CEO of Bail Hotline Bail Bonds. "Although the deadline for presenting the defendant to court has elapsed, our recovery partners will continue to search for Mr. Oscar Grijalva"
"Of course, paying the $1.2Million is going to sting, but it is part of the business. We conduct our due diligence, weigh the risks, and make our decisions on a case-by-case basis," stated Pablo Fonseca, a director at Bail Hotline Bail Bonds. "Most of our clients are hard working people who made a mistake and need to be released to make it to work in the morning. Fewer than 10% of our clients fail to appear in court, and over half of those make later appearances and close their cases."
In fact, a Department of Justice report published in 2007 stated that defendants released on their own recognizance failed to appear in court 26% of the time, versus 18% who are released and supervised by a bail bond company. Besides offering the county a lower number of FTA's (failing to appear), bail bond companies bear all of the expense of monitoring and presenting the defendants to trial.
"Bail bond services are probably the most misunderstood portion of our legal system", Mr McGuire continues. "We are a private company that serve over a thousand defendants in just about every county in California. We help get them back to their families, their jobs, and their attorney so that they may prepare for their trials. We bear the cost and responsibility of supervising these defendants, making sure they appear in court; and when they don't appear, we pay the cost to get them back to court."
About Bail Hotline Bail Bonds
With over 28 offices throughout all of California, Bail Hotline Bail Bonds offers thorough and quality assistance to individuals and families 24 hours a day, seven days a week. A family-owned and operated business, Bail Hotline strives to provide the best bail services in both minor and severe situations. If you cannot make it to one the bail bond offices, Bail Hotline's mobile service can assist you. Call 1-888-958-1228 or fill out our form for more information.
To find a Bail Hotline Bail Bonds location nearest you, visit http://www.myBailHotline.com.