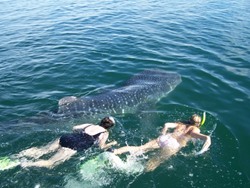 Baja AirVentures founder Kevin Warren shared, "With a new travel experience, especially one as unique as swimming with whale sharks, people have important questions they would like to have answered to see if this is the right adventure for them."
San Diego, California (PRWEB) June 09, 2014
Here's an opportunity for adventurous eco-travelers to learn direct from experts and Baja AirVenture's clients what it is like to snorkel with whale sharks, the largest fish in the world up to 50 feet in length in this free webinar June 12 @ 5PM PST. Elusive gentle giants, whale sharks consistently visit the warm waters near Bahia de Los Angeles in the Midriff Island region of the Sea of Cortez annually, to feed on abundant plankton from August to the end of October. Found consistently in a only a handful of areas around the world, Baja AirVentures whale shark tours, accessible via private air carrier from San Diego, are the closest destination for any North American traveler wanting this one-of-a-kind experience. These all-inclusive 6-day whale shark tours, based from the boat accessible-only Las Animas wilderness Lodge, are limited to 14 people run only from August 18– October 25, 2014.
Baja AirVentures director Kevin Warren shared, "With a new travel experience, especially one as unique as swimming with whale sharks, people have important questions they would like to have answered to see if this is the right adventure for them." People will be able to hear from and connect with former guests and whale shark tour staff first hand in this June 12, 2014 free webinar @ 5PM PDT.
A tripadvisor top contributor and recent guest on a Baja AirVentures whale shark tours stated, "There is nothing in this world like snorkeling with these magnificent behemoths of the sea. They are gentle creatures and as long as one follows the guide's instruction, a once-in-a-lifetime encounter will happen (or many more, in our case)."
To sign up for the free whale shark tour webinar and learn more about "close-encounters" with these gentle whale sharks, click here.
Celebrating 25 years, Baja AirVentures runs fly-in, small group, soft eco-adventures in Baja Mexico. The idea for Baja AirVentures came about when Kevin Warren, a sportsman, surfer and a commercial pilot with more than thirty years of experience exploring Baja, began to fly friends to isolated and little known surf spots throughout the peninsula along the Sea of Cortez. Word of mouth soon spread about these unique trips, and Baja AirVentures was launched. Since then Baja AirVentures has expanded way beyond surfing with the majority of their tours focused on ecotourism and soft adventure travel. Some of their more popular tours include the "Best of Baja's Whales, Dolphins and Sea Lions", Baja Sea Kayaking, whale watching, snorkeling with sea lions and fishing. In 2007 Baja AirVentures opened their all-inclusive and boat-accessible only Las Animas Wilderness Lodge with 8 private beachside yurts, as the base for many of their Sea of Cortez adventure. Las Animas Wilderness Lodge is ranked by tripadvisor as the #2 "Specialty Lodging" in Northern Baja, Mexico.
To learn more about Baja AirVentures and the whale shark tours, visit their website or e-mail bajaair(at)cox(dot)net. You can also contact the office and Kevin Warren at 1-800–221–9283.