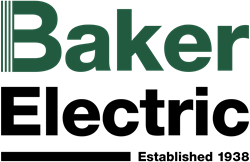 "Baker Electric is committed to being a leader in energy storage," said CEO Ted Baker. "We are proud to be chosen to help NEC ES create a more resilient energy infrastructure for SoCal Edison and its customers."
San Diego, CA (PRWEB) February 15, 2017
Baker Electric Inc. is pleased to announce it has been named the engineering, procurement and construction contractor (EPC) for NEC Energy Solutions' (NEC ES) grid energy storage pilot system for Southern California Edison. The storage system project is under a pre-approved energy storage procurement program initially conceived of and announced by SCE last year.
NEC Energy Solutions, a subsidiary of NEC Corporation, awarded Baker Electric Inc. the EPC contract for the above grade engineering design and installation of the turn-key NES ES GSS® grid energy storage solution. It will include 3.4MWh of containerized lithium ion batteries, a 3MW power conversion system, and NEC ES's proprietary AEROS® controls software suite. The system is intended to support peaks in electricity demand and is expected to be completed in November of this year.
"This project is an important step in making energy storage as plug-and-play as possible for the utility," said Bud Collins, CEO of NEC Energy Solutions. "Baker Electric, with its expertise and strong track record of success, is a key enabling partner for us in this project."
As the EPC, Baker will engineer the interconnection to the grid and procure and install the components within that interconnection including the switchgear. With this interconnection the NEC ES GSS® grid storage solution will provide power and energy services to the SCE electrical distribution system. The NEC ES GSS® will meet SCE's requirements for communication and recording of system operation and the system will allow SCE to defer traditional distribution grid upgrades.
"Baker Electric is committed to being a leader in energy storage," said CEO Ted Baker. "We've witnessed how the industry has continued to evolve and adapt to changing energy requirements and advances in technology. Our Baker team is proud to be chosen to help NEC ES create a more resilient energy infrastructure for SoCal Edison and its customers."
About NEC Energy Solutions
NEC Energy Solutions develops and manufactures smart energy storage solutions for electric grid, backup power and lead‐acid replacement applications with system integration expertise focusing on high performance, efficiency, safety and reliability. Products range from massive grid‐scale energy storage systems, successfully operating in commercial revenue service since 2009, to commercial and specialty battery solutions to fit the needs of telecom, datacenter, medical and other industrial applications. For more information, please visit http://www.neces.com.
About Baker Electric Inc.
Founded in 1938, Baker Electric, Inc. is a closely held corporation under the leadership of fourth generation family members. Baker is a full service electrical contractor providing cost-effective electrical solutions including major construction projects, commercial projects, medium voltage services, specialty services group, utility scale solar, low voltage systems and lighting retrofits. It offers comprehensive pre-construction services and the planning, coordination, design | build, in-house electrical engineering and project management for any size project from initial design to follow-up maintenance. Baker serves as both a prime and subcontractor. Its solar arm, NB Baker Electric, Inc., dba Baker Electric Solar designs, builds and installs photovoltaic solar power systems for new and existing homes and commercial facilities across Southern California. For more information, visit http://www.baker-electric.com.
Media Contacts:
Baker Electric Inc.
Susan Almon-Pesch
sue(at)speschialpr(dot)com
(858) 205-0516
NEC Energy Solutions
Roger Lin
rlin(at)neces(dot)com
(508) 497-7261
NEC is a registered trademark of NEC Corporation. All Rights Reserved. Other product or service marks mentioned herein are the trademarks of their respective owners.
© 2016 NEC Corporation