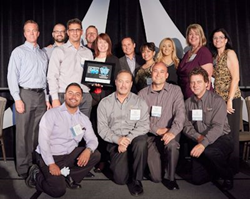 San Diego offers probably the best solar market in the country. We've capitalized on that opportunity by offering superior design, engineering and solar installation to more than 3,000 homeowners, said Mike Teresso
SAN DIEGO, Calif. (PRWEB) July 23, 2015
Baker Electric Solar, a full-service solar provider and SunPower Elite Dealer, was recently recognized for its exponential growth by the San Diego Business Journal in its 2015 100 Fastest Growing Private Companies list. With 2012 revenue at $6.16M and 2014 revenue at $23.62M, Baker achieved 283.59% growth and ranked No. 10 on the prestigious 2015 list. The solar provider's impressive growth is demonstrated by its previous ranks of No. 58 in 2014 and No. 79 in 2012. A contingency of Baker Electric Solar team members attended the 12th annual awards presentation at the Paradise Point Resort & Spa in San Diego on July 9.
To be considered for the list, a business must be local, privately-held and have generated revenues in excess of $350,000 in 2012. This year more than 140 organizations' revenues between 2012 and 2014 were analyzed and verified. In his comments, President and Publisher, Armon Mills said the list recognizes the efforts of companies that have succeeded by innovation, sustaining their business model and inspiring their talented, dedicated staff to reach aggressive goals.
According to the San Diego Business Journal's writer Patti Anderson, Baker Electric Solar's success can be tracked to several key strengths. The Baker name is a long time trusted brand. People gravitate toward working with a local company, one that has a history and track record of success. Additionally, consumers trust the company will be around for 20 years--or the life of their solar system.
"It's a distinct honor to rank No. 10 on the San Diego Business Journal's Fastest Growing list," said President Mike Teresso. "San Diego offers probably the best solar market in the country. We've capitalized on that opportunity by offering superior design, engineering and solar installation to more than 3,000 homeowners. Our amazing and highly skilled staff have an unshakable belief in the significant benefits solar provides and that comes through in our work every single day."
For more information about Baker Electric Solar, visit http://www.bakerelectricsolar.com.
About Baker Electric Solar
San Diego-based NB Baker Electric Inc., dba Baker Electric Solar, designs, builds and installs photovoltaic solar power systems for new and existing homes, commercial facilities and utility-scale projects across Southern California. As a member of the Baker family of companies, Baker Electric Solar is a BBB accredited business with an A+ rating. It was named one of Solar Power World Magazine's 2014 Top 400 Solar Contractors in North America. It received the 2014 SunPower "Commercial National Top Producer of the Year" and "Residential Regional Top Producer of the Year" awards, and has been recognized by the San Diego Business Journal as a ranking Clean-Tech Company, Alternative Energy Supplier, and one of San Diego's Fastest Growing Companies. It ranked No. 10 on the Journal's 2014 Best Places to Work in San Diego - Medium Category. Baker Electric Solar also earned the Angie's List Super Service Award two consecutive years (2013–2014). It is San Diego's first and largest SunPower Elite Dealer. For more information, visit http://bakerelectricsolar.com.