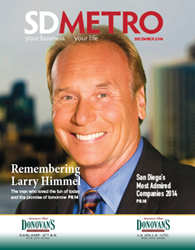 With the soaring demand for solar, it's absolutely imperative that a company be trustworthy, honest and guarantee its products and services. As with any emerging technology, fast-deal companies can take advantage of homeowners," said Mike Teresso
San Diego, Calif. (PRWEB) December 30, 2014
Baker Electric Solar, a San Diego solar company that designs, builds and installs photovoltaic solar power systems for new and existing homes, commercial facilities and utility-scale projects across Southern California, is pleased to announce it was recognized by the SD METRO magazine as one of San Diego County's most admired companies.
The SD METRO magazine is published by REP Publishing, Inc. It recently invited nominations for the 2014 Most Admired Companies in San Diego County for its December issue. Companies were asked to submit how they demonstrate the highest level of honesty and integrity in their business practices and service to their industry and the local community. Thirteen companies were selected and listed with brief summaries on how they exemplified these traits. The information can be viewed in the SD METRO December 2014 print edition, as well as in its digital version found at the publication's website http://www.sandiegometro.com.
Some of Baker's business practices relevant to achieving the honor would be how they encourage people to "Go Solar the Baker Way." It's a process and philosophy based on a combination of unmatched service, custom solutions, premium products and in-house expertise. The Baker Way is doing things the right way, so customers feel good about their decision to go solar. A solar energy consultant discusses the customer's needs, budget and plans for the future. They tell the homeowner if going solar does not make sense for their situation. Unlike some competitors, Baker keeps everything in house–no subcontracted installations. They file all municipal permitting documents and rebate paperwork when applicable and stand by written guarantees and warranties.
In addition, Baker Electric Solar is committed to the standards that build trust in the marketplace. They offer solar open house events to educate consumers on how solar energy works and how it can save them money on their electric bills. Baker is honest in advertising; transparent in proposals; honors promises; and safeguards the privacy of customers.
In its nomination, the company also detailed its contributions to the community. Baker has sponsored and completed eight Cal State San Marcos (CSUSM) Senior Experience Projects. For each, they worked with a team of CSUSM College of Business Administration (CoBA) students to accomplish a hands-on work project related to the business of solar energy. Another example was the 53.42 kW high efficiency solar system installed for Father Joe's Village Place. In addition to the benefits of saving money with the new solar system, Village Place residents received knowledge about the solar energy system via handouts, posters and solar panel monitoring equipment.
"With the soaring demand for solar, it's absolutely imperative that a company be trustworthy, honest and guarantee its products and services. As with any emerging technology, fast-deal companies can take advantage of homeowners," said Baker Electric Solar President Mike Teresso. "The SD METRO Most Admired Company recognition reinforces our commitment to excellence and philosophy of doing business."
For more information about Baker Electric Solar, visit http://bakerelectricsolar.com.
About Baker Electric Solar
San Diego solar company, Baker Electric Solar, designs, builds and installs photovoltaic solar power systems for new and existing homes, commercial facilities and utility-scale projects across Southern California. Baker Electric Solar is a BBB accredited business with an A+ rating. It has been recognized by the San Diego Business Journal as a ranking Clean-Tech Company, Alternative Energy Supplier, and one of San Diego's Fastest Growing Companies. It ranked No. 10 on the Journal's 2014 Best Places to Work in San Diego Medium Category. Baker also earned the 2013 Angie's List Super Service Award and was named one of Solar Power World Magazine's 2014 Top 400 Solar Contractors in North America. Baker Electric Solar is San Diego's first SunPower Elite Dealer. For more information, visit http://bakerelectricsolar.com.