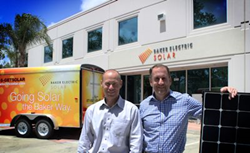 "Residential and commercial customers are seeking a solar installer with the experience that Baker Electric Solar offers. Acquiring the new facility serves as a statement – 'We're here to stay,'" said President Mike Teresso.
Escondido, CA (PRWEB) May 22, 2014
Baker Electric Solar, a Southern California solar company specializing in solar panel system design and installation, announced today its move to new headquarters in Escondido near the corner of Enterprise and Andreasen in North County San Diego. Since its launch in 2007, Baker Electric Solar has shared space with its sister electrical contracting company, Baker Electric Inc. in its Escondido corporate headquarters on Pacific Oaks Place.
With the move, Baker Electric Solar increased its physical footprint from approximately 10,000 to 26,000 square feet. Management projects employment levels to increase by 50% as Baker Electric Solar continues to grow with both residential and commercial solar projects.
The Baker Electric Solar facility is located at 2140 Enterprise Street, Escondido. With approximately 7,500 square feet for office personnel and 18,500 square feet of warehouse space, Baker Electric Solar is positioned to continue its exponential growth as projected in its 2014-2019 business plan. Strategic expansion efforts were dictated by the market share increase Baker Electric Solar has achieved. The total number of homes that went solar with Baker doubled from 2012-2013.
Baker Electric Solar has installed both commercial and utility-scale solar projects – one of which totaled over 61 megawatts (MW), with all commercial projects to date at over 81 MW. To provide a frame of reference, the 61 MW project was an installation of more than 680,000 solar panels and 81 MW is enough power to supply the energy needs of about 27,000 Southern California homes with clean, renewable energy. Offering sun-powered solutions since 2003, Baker has helped more than 2000 homes across Southern California use the sun to save on their electric bills.
Baker Electric Solar CEO, Ted Baker and President, Mike Teresso began planning the expansion into an independent facility in 2013 Q4 – with the move completed before the end of 2014 Q2. When asked about the move and what it means for Baker Electric Solar, Teresso commented, "In this growing solar market, both residential and commercial customers are seeking a solar installer with the experience that Baker offers. Acquiring the new facility was not only a necessity to respond to the growth, but it also serves as a statement – 'We're here to stay.' Among the many options that consumers have for their installer, Baker Electric Solar will continue to offer the best customer experience throughout Southern California."
"The Baker family has created a history and reputation for providing quality electrical contracting services for over 75 years," said CEO Ted Baker. "Baker Electric Solar is a forward-thinking company. As CEO, it's my goal to have the Baker name as synonymous with renewable energy as it is now with electrical contracting. The growth and success of Baker Electric Solar demonstrates that we are well on our way to extending our four-generation legacy."
For more information about Baker Electric Solar, call (877) 543-8765 or visit http://www.bakerelectricsolar.com.
About Baker Electric Solar
San Diego-based Baker Electric Solar, designs, builds and installs photovoltaic solar power systems for new and existing homes, commercial facilities and utility-scale projects across Southern California. Baker Electric Solar is a BBB accredited business with an A+ rating. It has been recognized by the San Diego Business Journal as a ranking Clean-Tech Company. It earned the 2013 Angie's List Super Service Award and recently was named one of Solar Power World Magazine's 2013 Top 250 Solar Contractors in North America. Baker Electric Solar is San Diego's first SunPower Elite Dealer. For more information, visit http://www.bakerelectricsolar.com.