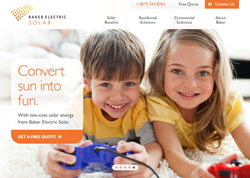 Homeowners will notice they have relevant information at their fingertips. We're a company that thrives on excellent customer service. The website is designed to make visitors feel good about solar and to get their questions answered," said Mike Teresso
San Diego, Calif. (PRWEB) September 25, 2014
Baker Electric Solar, a San Diego-based solar company that designs, builds and installs photovoltaic solar power systems across Southern California, is pleased to announce the re-launch of its website. Redesigned with today's consumers in mind, the website is visually appealing, user-friendly, and device-ready. Created with a focus on user experience, the custom-built scrolling-style template adjusts for viewing on desktop systems, laptops, tablets and smart phones.
The new website is at the same address of http://www.bakerelectricsolar.com. Its design, look and feel is fresh and bright. The content delivery is a result of customer feedback, and the website has improved navigation and functionality throughout, allowing customers to quickly access information. It includes extensive educational content to help customers understand solar – complete with technical data, customer testimonial videos, case studies, financing options, and more.
With the addition of live chat, Baker Electric Solar now provides a simple way to connect with its customers. Live chat gives Baker the ability to provide visitors with convenient answers, set appointments, get an estimate started, explain Baker's Bonus program for referring friends and more.
The website senses what mobile device a visitor is using and reformats materials to fit the screen. There's no need for a separate mobile site. It is compatible with today's browsers--without the need for Adobe® Flash.
The Baker Blog has been redesigned and is meant to serve as a current solar news and views outlet. Updated on a regular basis, it keeps up with the ever-changing solar advances in the marketplace and around the world. The blog lets users easily share pages that interest them with others across social media platforms – Facebook, Twitter, Google+ and others. In addition to the blog, the website itself also serves as a resource with links to information on rebate programs, a free "Checklist for Choosing a Solar Company," and Residential Investment Credit – IRS Form 5695 download.
In addition, the new website has added the Southern California solar integrator's large commercial solar projects and information on its sister company Baker Electric Inc. with its 75-year history and capabilities.
"At BakerElectricSolar.com we invite our visitors to 'Plug into the sun.' They can stop counting kilowatts and start living stress-free with easy financing options, expert guidance, and unmatched service," said Marketing Manager Ashley Arant. 'We want people to go solar the Baker Way and start enjoying electricity again!"
"Our website is a primary means of engaging with first-time consumers who are interested in going solar," said Baker Electric Solar president Mike Teresso. "As electricity costs rise, the demand for solar is rising exponentially. While on the site, homeowners will notice they have relevant information at their fingertips. We're a company that thrives on excellent customer service – and the upgraded website is designed to make visitors feel good about solar and get their questions answered. It provides people with all the reasons to go solar the Baker way."
For more information about Baker Electric Solar, call (877) 543-8765 or visit http://www.bakerelectricsolar.com.
About Baker Electric Solar
San Diego-based Baker Electric Solar, designs, builds and installs photovoltaic solar power systems for new and existing homes, commercial facilities and utility-scale projects across Southern California. Baker Electric Solar is a BBB accredited business with an A+ rating. It has been recognized by the San Diego Business Journal as a ranking Clean-Tech Company, Alternative Energy Supplier, and one of San Diego's Fastest Growing Companies. It ranked No. 10 on the Journal's 2014 Best Places to Work in San Diego Medium Category. It also earned the 2013 Angie's List Super Service Award and recently was named one of Solar Power World Magazine's 2014 Top 400 Solar Contractors in North America. Baker Electric Solar is San Diego's first SunPower Elite Dealer. For more information, visit http://www.bakerelectricsolar.com.