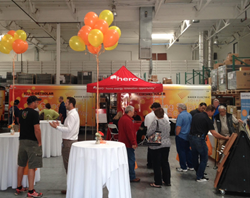 Solar Discovery Day provides homeowners with the most current and accurate set of facts. If solar is right for the homeowner, we want them armed with all the intel needed to choose the right provider and perfect system," said Mike Teresso
San Diego, CA (PRWEB) June 23, 2015
Baker Electric Solar, a full-service San Diego solar company that designs, builds and installs residential solar systems, invites San Diego and Riverside County homeowners to attend its semi-annual Solar Discovery Day on Saturday, June 27 from 11:30 a.m. to 2:00 p.m. The solar education event will be held at Baker's headquarters, 2140 Enterprise Street in Escondido, California. The family-friendly event is open to the public. Baker has partnered with the San Diego Food Bank and encourages attendees to donate canned or dry-food goods at the on-site Food Bank kiosk. To RSVP go to http://solar.bakerelectricsolar.com/events
Mike Teresso, president of Baker Electric Solar said, "Southern Californian's interest in solar has sky-rocketed in the last two years. Homeowners have been bombarded with information from hundreds of solar providers—much of it confusing. Baker's Solar Discovery Day mission is to provide homeowners with the most current and accurate set of facts. If solar is right for the homeowner, we want them armed with all the intel needed to choose the right provider and perfect system for their families."
Baker's team of consultants, solar product experts and "Stop and Learn" stations will provide attendees with a broad set of invaluable information. The stations will include: Solar 101; Choosing the Right Solar Products; Solar Financing Options; How Do I Get the Federal Investment Tax Credit?; and more. Homeowners are encouraged to bring their electric bills to the event. A Baker solar energy consultant can give an on-the-spot estimate of the monthly cost savings resulting from a customized solar system.
Baker Electric Solar has invited world-class suppliers including SunPower® solar panels, LG solar panels represented by CED Greentech, SMA inverters, SolarEdge power optimizers, Quick Mount PV® roof mounting, and Dividend Solar financing. Company experts will provide attendees with the latest in solar system information and discuss each homeowner's specific requirements.
In addition, as a Baker Electric Inc. family company, Baker Electric Solar, has the history, the backing and the diversification of its parent, a local home and business electrical contractor founded in 1938. Offering sun-powered options since 2003, the company has helped more than 2700 Southern California residents use the sun to save on their electric bills.
To register to attend Baker's Solar Discovery Day, go to http://solar.bakerelectricsolar.com/events
About Baker Electric Solar
San Diego solar company, Baker Electric Solar, designs, builds and installs solar systems for homes, commercial facilities and utility-scale projects across Southern California. Baker Electric Solar is a BBB accredited business with an A+ rating. It has been recognized by the San Diego Business Journal as a ranking Clean-Tech Company, Alternative Energy Supplier, and one of San Diego's Fastest Growing Companies. It ranked No. 10 on the Journal's 2014 Best Places to Work in San Diego, Medium Category. Baker also earned the Angie's List Super Service Award two years in a row and was named one of Solar Power World Magazine's 2014 Top 400 Solar Contractors in North America. Baker Electric Solar is San Diego's first and largest SunPower Elite Dealer. For more information, visit http://bakerelectricsolar.com.