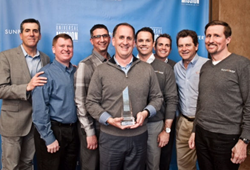 Together, our solar experience and world-class service ethic, along with SunPower's panel performance and exceptional warranty, give our customers the best solar installations in the business," said President Mike Teresso
SAN DIEGO, Calif. (PRWEB) March 29, 2016
Baker Electric Solar, a San Diego-based solar company and SunPower® Elite Dealer, today announced it has received the SunPower "Residential National Top Producer of the Year" award for its outstanding sales performance as a SunPower dealer in 2015. The awards were announced at a recent SunPower dealer conference in Chandler, Ariz.
"Earning the 2015 SunPower 'Residential National Top Producer of the Year' award is a testament to the excellence of SunPower's industry-leading solar panel technology and the value it brings homeowners," said Mike Teresso, president of Baker Electric Solar. "Together, our solar experience and world-class service ethic, along with SunPower's panel performance and exceptional warranty, give our Southern California customers the best solar installations in the business."
In 2015, Baker Electric Solar installed more than 20,000 high efficiency SunPower solar panels with its largest residential solar system measured at 49.68 kilowatts (kW) in size. Located in Poway, Calif., the rooftop solar installation features over 144 SunPower X-Series 345-watt solar panels providing more than 21 percent efficiency.
"We congratulate Baker Electric Solar for their extraordinary sales performance in 2015," said Howard Wenger, SunPower president, business units. "As a SunPower Dealer, Baker Electric Solar has demonstrated the importance of accelerating growth and serving more customers which is critical to our mission to change the way our world is powered, and we look forward to their continued success in 2016."
The "Residential National Top Producer of the Year" award honors the SunPower home solar installation partner that has the highest solar panel shipment volume in the United States. SunPower's global dealer network includes more than 500 dealers in the U.S.
For more information on Baker Electric Solar and its solar systems for your home, call (877) 543-8765 or visit http://bakerelectricsolar.com.
About Baker Electric Solar
San Diego-based Baker Electric Solar designs, installs and maintains photovoltaic solar power systems for homes, commercial facilities and utility-scale projects across Southern California. As a member of the Baker family of companies, Baker Electric Solar is a BBB accredited solar company with an A+ rating. It ranks No. 21 on Solar Power World Magazine's 2015 Top 500 Solar Contractors in North America. It was recognized by the San Diego Business Journal as San Diego's No. 10 Fastest-Growing Private Company. It received the 2014 SunPower "Commercial National Top Producer of the Year" and 2015 "Residential National Top Producer of the Year" awards. Baker also earned the Angie's List Super Service Award three consecutive years (2013–2015). Baker Electric Solar is San Diego's first and largest SunPower Elite Dealer. For more information, visit http://bakerelectricsolar.com.