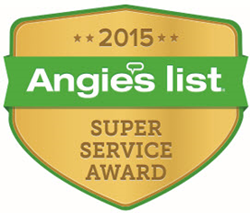 Winning the Angie's List Super Service Award three years running is confirmation of Baker's commitment to delivering exceptional service to each and every one of our customers," said President Mike Teresso
San Diego, Calif. (PRWEB) March 03, 2016
Baker Electric Solar, a full-service solar provider and SunPower Elite Dealer, announced it has once again earned the prestigious Angie's List Super Service Award. Baker received the award for 2015 based on an extensive set of positive reviews and testimonials, as well as rigorous evaluations by Angie's List, the company recognized as the gold standard for service placement and review.
Award winners need to meet strict eligibility requirements. The criteria include having an "A" rating in overall grade, recent grade, and review period grade. The grading is on an A through F scale and covers areas ranging from price to professionalism and punctuality. In addition, a company must be in good standing with Angie's List, pass a background check and abide by Angie's List operational guidelines.
"Before Angie's List, selecting a reliable, quality solar provider was hit and miss – particularly in Southern California where there are hundreds of solar companies," said Baker Electric Solar President Mike Teresso. "Angie's List helps consumers make informed, logical, and educated decisions. Winning the Angie's List Super Service Award three years running is confirmation of Baker's commitment to delivering exceptional service to each and every one of our customers."
With more than 500 solar businesses in the Southern California region, Angie's List is the clear choice by homeowners for trusted reviews. Service company ratings are updated daily and Angie's List reviews are: never anonymous, verified by BPA Worldwide's certification process, submitted online, through mail or over the phone. Only pre-qualified companies that meet Angie's exacting standards, like Baker, are on the list.
"Only about 5% of the solar companies in San Diego have performed consistently and well enough to earn our Super Service Award," said Angie's List Founder Angie Hicks. "It's a really high standard."
In addition to winning the Angie's Lists Super Service Award for three consecutive years, Baker Electric Solar also earned the 2015 San Diego Metropolitan Magazine Most Admired Company recognition for the second year. Baker appeared with eight other San Diego companies in the publication's December 2015 issue. Editor Manny Cruz said, "Baker has been part of the San Diego community since 1938 when Leroy Baker founded the firm. Since then, four generations of the Baker family have owned, operated and grown the company. As a member of the Baker family of companies, Baker Electric Solar is one of the fastest growing companies in San Diego."
For more information about Baker Electric Solar visit http://bakerelectricsolar.com
About Baker Electric Solar
San Diego-based Baker Electric Solar designs, installs and maintains photovoltaic solar power systems for homes, commercial facilities and utility-scale projects across Southern California. As a member of the Baker family of companies, Baker Electric Solar is a BBB accredited business with an A+ rating. It ranks No. 21 on Solar Power World Magazine's 2015 Top 500 Solar Contractors in North America. It was recognized by the San Diego Business Journal as San Diego's No. 10 Fastest-Growing Private Company. It received the 2014 SunPower "Commercial National Top Producer of the Year" and 2015 "Residential National Top Producer of the Year" awards. Baker also earned the Angie's List Super Service Award three consecutive years (2013–2015). Baker Electric Solar is San Diego's first and largest SunPower Elite Dealer. For more information, visit http://bakerelectricsolar.com.
About Angie's List
Angie's List helps facilitate happy transactions between more than three million consumers nationwide and its collection of highly rated service providers in 720 categories of service, ranging from home improvement to health care. Built on a foundation of authentic reviews of local service, Angie's List connects consumers directly to its online marketplace of services from member-reviewed providers, and offers unique tools and support designed to improve the local service experience for both consumers and service professionals.