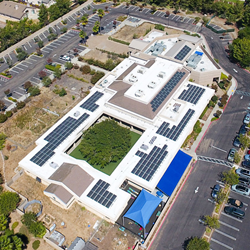 "The Temple's solar system will provide more than $1M in energy cost savings over the 25-year warranted life of the solar modules," said Baker's Director of Commercial Solar, Scott Williams
SAN DIEGO, Calif. (PRWEB) August 30, 2017
Baker Electric Commercial Solar, a full-service solar company that designs and installs the most technologically advanced solar and energy storage systems in San Diego, recently completed a solar system for nonprofit Temple Adat Shalom. The 76.16 kW rooftop system will save more than 70% of the synagogue's demand charges and energy costs. Temple Adat Shalom is located at 15905 Pomerado Road in Poway, California.
Temple Adat Shalom funded their solar system with a power purchase agreement (PPA). This financing strategy allowed the synagogue's system to be built with no out-of-pocket expenses enabling them to be cash flow positive from the first day the system was commissioned. To increase its net savings over the life of the system, the Temple will buy out the PPA after year five. First year electricity cost savings for the synagogue are projected at $10,000.
"Going solar was a two-fold decision. As a nonprofit, a significant reduction of our electric costs while contributing to the conservation of the environment were critical" said Harold Dunn, the congregant in charge of spearheading the solar initiative. "After comparing solar vendors, we chose Baker for a number of reasons – the price was right; they managed the PPA financing; and have a very good reputation. Best of all, they were responsive throughout the entire project solving any challenges quickly and efficiently."
"The Temple Adat Shalom solar project is in direct alignment with its commitment to fiscal responsibility and mission to fund education services and programs for the entire congregation," said Baker's Director of Commercial Solar, Scott Williams. "The Temple's solar system will provide more than $1M in energy cost savings over the 25-year warranted life of the solar modules. We're gratified these funds will help support their commitment to congregants for many years."
According to the EPA Greenhouse Gas Equivalencies Calculator, Temple Adat Shalom's new solar system will save the equivalent of annual greenhouse gas emissions from 213,564 miles driven by an average passenger vehicle. It will offset CO2 emissions from 10,027 gallons of gasoline consumed or 95,088 pounds of coal burned.
For more information on Baker Electric Solar, visit https://www.bakerelectricsolar.com
About Baker Electric Commercial Solar
San Diego-based Baker Electric Commercial Solar designs, installs and maintains integrated energy systems including solar and battery storage for commercial facilities and utility-scale projects across Southern California. As a member of the Baker family of companies, Baker Electric Commercial Solar is a BBB accredited business with an A+ rating. Baker ranks #9 on Solar Power World magazine's 2017 Top 500 Solar Contractors in the United States. It was recognized by the San Diego Business Journal as San Diego's #31 Fastest-Growing Private Company. Baker also earned the Angie's List Super Service Award four consecutive years (2013–2016). For more information, visit http://bakerelectricsolar.com.
About Temple Adat Shalom
Founded in 1974, Temple Adat Shalom, a 501(c)(3) nonprofit organization, is the center for Reform Jewish life in North County Inland, San Diego. From its start as a small group of Jews seeking to create a progressive Jewish presence in the Rancho Bernardo-Poway area, the congregation has grown into a vibrant community with something for everyone. In the most essential Jewish tradition, Temple Adat Shalom is a House of Worship, a House of Learning, and a House of Gathering, offering congregants many ways to engage with their Jewish faith, heritage, and people. For more information visit https://www.adatshalom.com