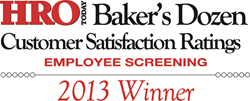 Our focus is always on customers first and this award is a significant measure of our performance excellence.
Arlington Heights, IL (PRWEB) December 17, 2013
HRO Today, the nation's leading magazine on human resources outsourcing, has ranked Aurico as one of the nation's premier background screening providers. Aurico ranks fifth overall in the 2013 Baker's Dozen Customer Satisfaction Ratings, moving one spot ahead of 2012.
HRO Today bases their rankings on feedback from over 600 buyers of background screening products and services. Categories such as service breadth, deal sizes, and quality of customer service are used to demonstrate the relative differences amongst service providers. This year, Aurico's ranking as #5 is a reflection of superior industry leadership and demonstrates a dedication to its customers on an ongoing basis.
"It's been an award-winning year for us," stated Ben Goldberg, President of Aurico. "We're especially proud of Baker's Dozen #3 ranking in Quality of Service. Our focus is always on customers first and this award is a significant measure of our performance excellence."
SVP of HR and long-term client expressed his support, "Again, Aurico has proven that their service is first rate. From my viewpoint, they do an excellent job with helping us make tough HR decisions in a legally complex and competitive arena. Some of the background information we receive is hard to understand and Aurico helps us make sense of it all, in order to make better hiring decisions. And they do it promptly, efficiently, and cost effectively."
Another satisfied client commented, "When Aurico says they answer the phone within four rings, they're not kidding. Their customer service is the most responsive Client Services team I've ever dealt with. I never get voicemail and things are always done on time and with a smile."
Goldberg has built the business with an emphasis on attention to small details. "When customers call in, we take care of them and then find out if there is anything else we can do better."
This is one of the many reasons Aurico wins customer service awards year after year. In fact, Aurico recently won the coveted 2014 Torch Award for Marketplace Ethics, presented by the Better Business Bureau of Chicago & Northern Illinois.
Laura, Director of Leadership and Sales Recruiting, summarizes Aurico when she said, "In my 22 years of working with background screening companies, Aurico is the best!"
About Aurico: Aurico is an NAPBS accredited and ISO 9001:2008 certified background screening and drug testing company. With over 22 years of experience, Aurico provides clients with high quality screening, compliance tools, paperless solutions and is nationally recognized on HRO Today's Baker's Dozen Customer Satisfaction list of top screening providers. Their award-winning WebACE™ technology is pre-integrated with the premier applicant tracking systems for efficient integration.